Red Devils football looks to continue undefeated record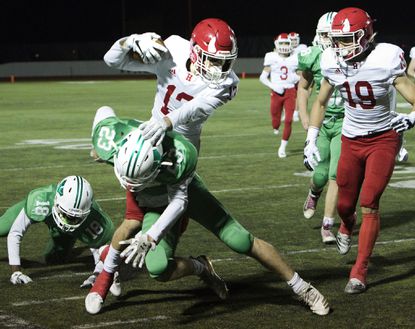 The football team is looking to go out and make a statement for this football season. The Red Devils are 6-0 and are playing with a different sense of urgency this year from years prior.
One of the huge reasons for this strong start with the Red Devils is the mindset that the team has for this year. Wide receivers Coach Matt Mcniif said that this year the Devils are not holding anything back this year.
"In years past I believe we have been scared to try things like take more shots down field but this year we feel like we have the athletes to make big plays downfield versus anybody that we play this season," Mcniff said. "Our goal has always been to win state but we know that we obviously have to win conference first, but our ultimate goal is to win a state championship and we believe that we have the guys to deliver a title to Central."
That confidence from the coaches is also carrying over to the players on the team as well. Even with a new coach the players also say they feel a chip on their shoulders and are ready to deliver a championship to Central.
"Having a new coach this year built a different kind of culture around this team that is focused on winning and proving all the doubters wrong that did not believe in us before," said Michael Gentleman, junior safety.
Gentleman said that drive to win a title this year seems to be buzzing throughout the whole team and it is being talked about every day during practice to remind the team to stay focused on what their goals are for the remaining season ahead of them.
"Personally I just want the ability to play, but more importantly there's that ever presence of winning a title that drives us to get better," Gentleman said. "There's definitely more of a sense of confidence around the team mixed with the desire to win."
Although Gentleman did not play on varsity last year he said he can already feel the culture starting to show incredible growth with the team this year.
"Going from sophomore year to varsity, and doing all the little things right has truly become more important whether for practices or before all of our games we play," Gentleman said.
Junior cornerback Alex Kalman said he feels optimism and positivity for their upcoming games this season.
"The new coach definitely brings a more positive energy having him as our coach he also motivates us to do our best," Kalman said. "We want to win the conference championship and we also want to win the state championship this year."
With these big goals comes hard work and Kalman said he thinks this year's practices have been tougher.
"Coach Griffin is very enthusiastic and brings a new level of intensity to practice every single day we go out there," Kalman said.
With this 6-0 start, the team sees itself continuing the wins on Friday, Oct. 11 at 7:30 p.m. against Proviso West at home.
Leave a Comment