Boys' swim dives into state and resurfaces with wins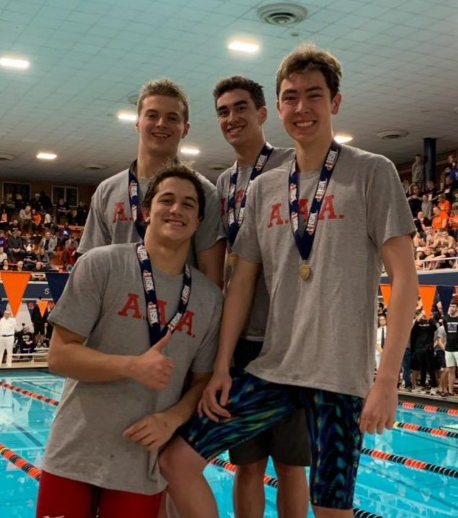 On Friday, Feb. 28 and Saturday, Feb. 29, the boys' varsity swim and dive team competed at the state finals at Evanston Township High School in Evanston, Ill. The team won eighth place overall.
Among those competing for Central in the Illinois High School Association (IHSA)'s annual state competition were juniors Nolan Lahmann, John Tischke, Erkan Ozgen, and seniors Alexander Cho, Cullen Cochlan, Michael Benington, and Alex Daw.
The preliminary rounds took place on Friday, where swimmers would compete to qualify for the final rounds on Saturday.
The team emerged state champions in the 200-yard medley relay, led by Lahmann, Cho, Cochlan, and Ozgen.
Other victories included an 11th place finish by Daw and an 8th place finish by Benington in the 200-yard individual medley. A relay team consisting of Ozgen, Cochlan, Tischke, and Daw placed tenth in the 200-yard free relay. Lahmann won 12th place and Benington finished 11th in the 100-yard backstroke competition. In the 100-yard breaststroke race, Cho won eighth place. A team with Benington, Cochlan, Tischke, and Daw finished in 11th place for the 400-yard free relay.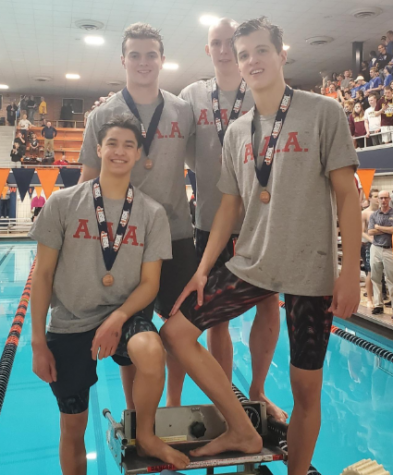 Boys' swim started their season in November and achieved a record of five wins to four losses. They were also invited to four invitationals, where they won third place in two of them. While the full varsity team consists of 20 swimmers, ten swimmers in total qualified for state.
Qualifying for and winning state has been the team goal from the first day of practice, furthering the swim team's tradition of excellence. According to the coaches, the team has been working through the season to improve their performances and eventually, win some state medals.
"We've been preparing for state since day one—every practice I have a countdown of 'how many days until state,'" said Mr. Robert Barber, math teacher and head swim coach. "We hope that in every practice, we are putting training and success under our belt."
Evanston Township High School was filled with spectators, ranging from coaches to parents, to fellow students, to random community members. Central had a fervent cheering section, with deafening cheers coming from Central's girls' swim team.
"It's so fun to go see them swim because they come to our meets all the time," said Phoebe Goebel, junior member of the varsity girls' swim team. "The state meet is packed which makes it even more exciting, especially when some races come down to a tenth of a second."
The girls' swim team also decorated the bedrooms of the boys' swimmers and threw a celebration for the boys' accomplishments at state. Both teams often attend each others' meets to offer support and encouragement.
Although the swimmers were focused on their events and largely shut out the audience while they were in the water, they still appreciated the dynamic, supportive environment established by family and friends, and described it as a once-in-a-lifetime experience.
"Competing at state is almost unreal, and I had a few instances where I thought I was actually dreaming," Cho said. "The atmosphere and the pressure…I cannot describe the feeling the setting gives you."
According to Barber, while the medals and state rankings invoked a sense of pride in the team, ultimately, he was most pleased with the personal and athletic development of the swimmers.
"We overcame not being in the spotlight and taking a big hit due to a large portion of our team graduating last year," Barber said. "I am proud of how we proved that we are still a force to reckon with."
Looking forward to next year, the swim team remains optimistic for state and hopes to emulate or exceed the success of this year. However, when asked about goals for next season, Barber noted every year is different and that goals for performance are determined during the season.
"My number one goal is to exploit the talent on the team," Barber said.
For more information on the IHSA boys' state for swimming, you can access this website that details the statistics and play-by-play.
Leave a Comment
About the Contributor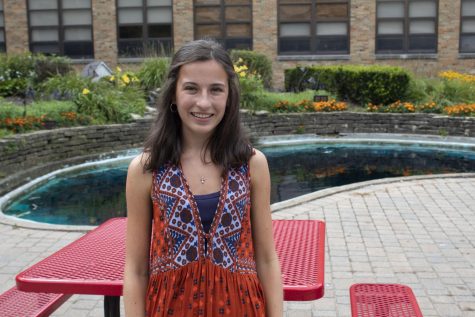 Olivia Ostrowski, Editor-In-Chief
Olivia, a senior, is excited to be apart of the Devils' Advocate team. She loves playing tennis and lacrosse, and competes in these sports at Central....