Hinsdale Central defeats Hinsdale South 49-0; weather delays game
On Friday, Sept. 17, Hinsdale Central's varsity football team played at the Hinsdale South Football Stadium against Hinsdale South, defeating them by a final score of 49-0.
That night marked the 37th annual "Doings Cup" game that's been played against Hinsdale South every year since 1983, with the exception of 2020 due to COVID-19 restrictions. Because of their performance, Hinsdale Central took home the trophy this year. 
The Red Devils' victory marks Central's third win in a row this season.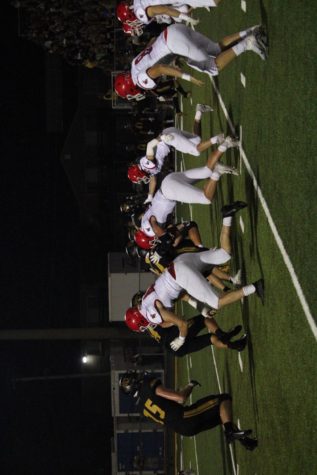 "All of the players work really hard to continue to prepare every week," said Brian Griffin, head football coach and mathematics teacher.
Many scoring plays were made by the team Friday night. Seniors, Sean Allison and Nick Fahy, juniors Gavin Myall and Billy Cernugal, and sophomore Carter Contreras scored touchdowns throughout the game. These were particularly exciting for Myall and Contreras, as they made their first scoring plays as varsity team members.
Teamwork has proven its importance to keeping Hinsdale Central's football team successful as well.
 "As a team, we are all able to pick each other up and stay positive," said Billy Cernugal, junior and starting quarterback for the varsity team. "The players being a family builds trust and chemistry out on the field as well."
Many Hinsdale Central students weren't there to witness Friday night's game due to an hour-and-a-half-long weather delay. The game was scheduled to start at 7:00 p.m. but didn't begin until around 8:30 p.m.
"The weather delay was annoying," said Mia Hutchison, senior. "I think having it start so late affected the turnout because people didn't want to be at a game all night long, especially an away game."
Hinsdale Central's seeking their next victory at Oak Park River Forest (OPRF) on Friday, Sept. 24 at 7:00 p.m. To view the rest of this season's football game schedule, click here.
Leave a Comment
About the Contributor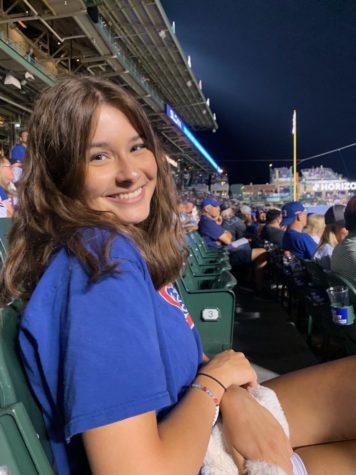 Lily Ging
Lily Ging, senior, is excited to be an Editor-In-Chief for Devil's Advocate this year. She spends most of her time cheerleading for the Hinsdale Central...