A Run-down of Special Olympics
At Hinsdale Central, many students love supporting their fellow Red Devils and showing school spirit by attending football games, basketball games and more. But not many are aware of the school's Special Olympics events.
The Special Olympics offerings at Hinsdale Central are track and basketball, with basketball currently in season.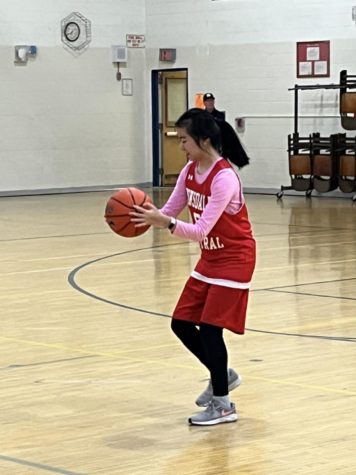 On Dec. 13, Hinsdale Central had a game against long-standing rival, LT. They are also participating in a basketball tournament in January. 
Special Olympics participants attend a combination of games and practices twice a week, according to coach Kelly Watson. She coaches the 13 athletes on this year's basketball team. Additionally, Watson has help from student mentors who help make practices fun and productive. 
"Special Olympics is an amazing program to be a part of, whether as an athlete or peer coach," Watson said. Watson also mentions that the friendships between mentors and athletes are one of her favorite aspects about the program. Mentors typically help Coach Watson with practices by coaching athletes at games and practices.
Hinsdale Central's Special Olympics team has been in existence for many years, since before Watson started at the school 18 years ago. She has been personally involved in the program through coaching for the past 12 years.
Sophie Dipasquale, one of the peer mentors in the program, shares what activities athletes do each practice. 
Dribbling practice is a drill that typically kicks off practice during basketball season. Following warm-ups, athletes participate in several other activities, including bounce pass and shooting drills. Next, the team splits into two groups and scrimmages before wrapping up for the day. 
"[Scrimmages are] always fun since we like to end practice with a coach versus player scrimmage most days," Dipasquale said. 
Special Olympics is an incredible program that always welcomes student participation. For those with questions, email Kelly Watson. 
"Come on out and support the Red Devils," Watson said.
Leave a Comment