HCHS vs. LT- IHSA Basketball Sectional Semi-Finals
On Thursday, March 1, Hinsdale Central's boy's varsity basketball team won against Lyons Township High School in the IHSA semi-finals. The Red Devils won their match with a score of 46-40. 
The Red Devils and the Lions played for a full gym of over 3,000 fans. Tickets were sold in advance online with no tickets sold at the door, unlike normal season tickets. 
"We're sold out, it's an IHSA event and it's a very important game," said Dan Jones, athletic director at Hinsdale Central.
With the gym at its capacity, special measures were taken to prevent fans without tickets from entering the gym. These included showing staff online tickets on fans' mobile devices rather than paper tickets.
"Ticket sales were done differently," said Ryan Maita, assistant principal for operations. "It's all online purchasing and it sold out really quickly."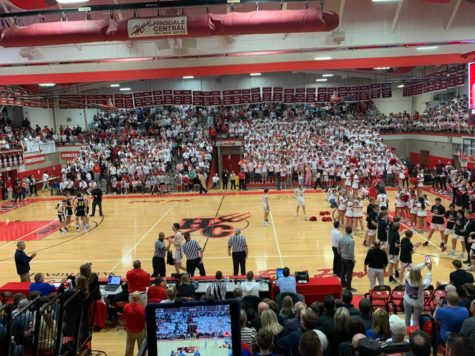 Extra security was brought on to maintain order. In addition to the existing security at Central, which includes nine officers and a school resource officer, the school drafted in additional officers and staff from surrounding schools and police departments, including Hinsdale South and Lyons Township. 
"It's an 'all hands on deck' event," Maita said. "LT will be bringing some of their staff to help supervise as well as their SRO [school resource officer]. We'll also have HPD [Hinsdale Police Department] to help out for security purposes."
The security team limited entry to the Grant Street Plaza entrance only and closed internal fire doors inside the school to restrict access to the main gym.  
"We've upped our security to make sure that no one is going to be coming in any other doors," said Michael Coughlin, school security officer.
Fans were let into the building at 5:45 p.m. and the game promptly started at 7 p.m. By half time, the Red Devils were down 18-27.
"The first half was pretty rough," said Emerson Eck, senior. "They dominated the offensive boards and the defensive boards."
Despite their deficit during the first two quarters, the Red Devils gained the lead with less than two minutes left in the third quarter, going into the 4th quarter up 33-30. 
"Our team played really well, and we know our roles, and we stick to those roles, we played super unselfishly," said Chase Collignon, senior. 
Ultimately, the Devils won the game 46-40 with a number of free throw shots helping maintain the Devils' lead.
"I thought it was a lot of toughness and hard work," said Ben Oosterbaan, senior. "They played tough on us in the first half, and we played tough on them in the second half."
 Hinsdale Central will play Downers Grove North at Hinsdale Central on Friday, March 3 for the sectional championship. The winner of that match will go on to the super sectionals at the University of Illinois at Chicago.
Leave a Comment
About the Contributor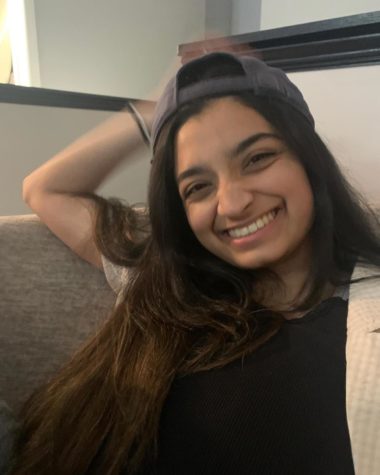 Simrah Qasim, Editor-In-Chief
Simrah Qasim, senior, is excited to be returning to devil's advocate. She loves listening to music, writing, and playing the piano. Along with Devil's...