Cutler's injury could spell trouble for Bears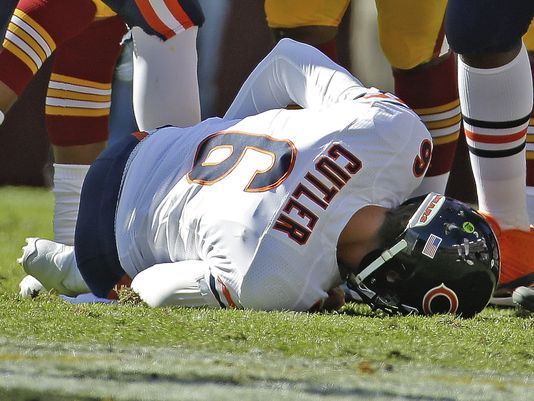 It's the same narrative every year. Under quarterback  Jay Cutler, the Chicago Bears have started every season hot. Despite annual offseason worries about "an aging defense" and "a turnover-prone offense," the Monsters of the Midway prove their grit early in the season.
After a few weeks of each year, the Bears have historically found enough success to start receiving praise as "potential playoff/Super Bowl contenders." They drop a few games to tough teams, but compete viciously in regular season ball. The fans become excited about the teams and swear that "they are only a few steps away" from being a top tier team.
And then Cutler gets hurt.
In 2010, it was his knee against the Packers in the NFC Championship game. In 2011, it was a fractured thumb bone in November against the Chargers. In 2012, it was a series of head injuries that kept Jay out of several regular season contests. This year, it is an injured groin that will sideline the quarterback for "at least four weeks," maybe long enough to extinguish the Bears' playoff chances for a third straight year.
It's no secret that the Bears' defense is finally deteriorating. Chicago is currently sitting at 28 in points per game allowed at 29.4. Last year, their stat was good for number three in the league with only 17.3 ppg. But despite the defense ineptitude, the Bears' offense has been able to keep the team in games.
But now without Jay, is that possible?
It's hard to tell. However, injuries to the star quarterback have significantly handicapped the Bears in the past.
Quarterback Josh McCown will get the start for the Bears in the upcoming weeks, a wily veteran with some previous NFL experience. If McCown can manage to put points on the board and the defense can step up, the Bears will not be totally out of playoff contention.
In the next four Cutler-less weeks, the Bears will face the Green Bay Packers, the Detroit Lions, and the Baltimore Ravens. None of those teams are pushovers; it is possible for the Chicago to drop to 4-6 by the end of the stretch. If that reality occurs, it is extremely unlikely that the Bears will re-enter the playoff race.
Leave a Comment