'Cliffmas' cancelled for Illini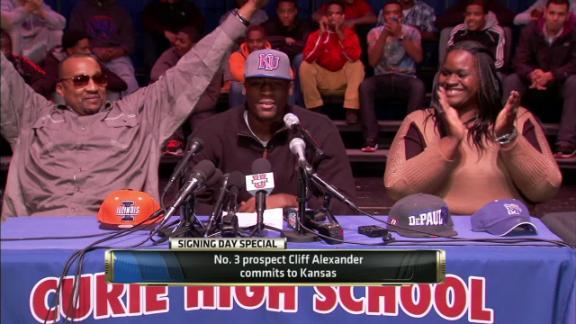 "I have decided to continue my education at the university of…" said Cliff Alexander as he reached to pick up a hat donning the Illini colors. Slyly, he put it back down and chose a KU hat and said "Kansas."
The No. 3 rated prospect in the class of 2014, Alexander, of Curie High School, had narrowed his list down to Illinois, Kansas, DePaul, and Memphis. Friday marked his verbal commitment to Bill Self and the Jayhawks.
This switch did not sit well with the Illini faithful. Videos sprouted up around the Internet of Illini fans exploding with excitement and then yelling expletives when they realized the trick Alexander pulled.
Earlier that day, Illinois coach John Groce already lost a 2014 commit in Ballard HS point guard Quinten Snider. The top 40 recruit verbally committed to play in Champaign but backed out and then signed with Louisville according to Scott Powers of ESPN Chicago.
Leron Black and Michael Fink are the only two commits remaining in Illinois' recruiting class of 2014. Both Black and Fink signed their Letter of Intents this week to play for Groce.
Although Friday wasn't telling of it, Groce has Illini basketball trending upwards in Champaign. They are already 3-0 on the season and are coming off a strong showing in the NCAA Tournament.
Other top recruits, Jahlil Okafor and Tyus Jones, also choose their schools on Friday. Both top five recruits verbally committed to Duke.
Leave a Comment