The Devils' Advocate guide to March Madness
As the season changes from winter to spring, many sports-enthusiasts at Central will shift their focus from the NBA or the NHL to college basketball for the duration of March. With the regular season for college teams having concluded, conference playoffs begin this week, and are followed by the annual 68-team, winner-take-all battle for the championship.
Mr. Brian Mitchell, Freshman Boys' Basketball coach, enjoys watching March Madness for the non-stop basketball.
"My favorite part is the first two days of the tournament," Mitchell said. "I like watching back-to-back games."
Although the tournament provides entertainment for spectators, the real fun lies in the creation of brackets. On apps like the ESPN Tournament Challenge and NCAA March Madness Live, anyone can create their own bracket in hopes of predicting the winners and losers more accurately than their friends and all of college basketball fans. The goal of "bracketology" (the study and pursuit of correctly predicting outcomes in college basketball) is to make a perfect bracket- something that has never been done before by anyone, and can even win a perfect predictor a hefty prize of $1 billion.
To make a bracket, simply download the one the apps or go to ESPN's bracket creation website, join a league with friends and pick which teams you think will win. As to making decisions, each team has a seed number indicating how dominant they were in the regular season; the lower the seed, the better the team. As of right now, the top four ranked teams- Kansas, Villanova, UCLA, and Gonzaga- are all making their cases for why they could emerge champions, so those are teams that fans can expect to go far in the bracket.
For students like Jack Kanzler, senior, using the seed numbers as reference is a viable strategy.
"Generally I try and follow the seeds pretty closely, and throw in an upset here and there," Kanzler said. "Two years in a row, it's somewhat worked for me. Last year I won a league I was in."
Other tactics rely more on stats and data about the teams. For Mitchell, winners and losers can be predicted based on player information.
"My go-to strategy is picking teams with upperclassmen," Mitchell said.
However, as all fans of college basketball know, anything can happen. Look back to just 2014 when UConn won the tournament as a #7 seed team, or to last season when #2 seed Michigan State lost in the first round when 22% of all brackets predicted Michigan State to win the entire championship. To correctly predict these upsets, there are many different strategies.
For Ryan Doorhy, senior, the way to win is by going against the grain.
"I would do what nobody else would do," Doorhy said. "Typically everyone tries to do the same thing like predict a #1 seed going far, but I'd have a #12 seed go far, because if it does happen, I win."
No matter what the strategy, it's still fun to participate by watching the games rooting for a team that you chose to win. After all, a $5 league buy-in price is worth all of the enjoyment of seeing a team from a small school in Tennessee beat a notoriously dominant powerhouse, especially if you chose that outcome in your bracket.
The first games will take place on Tuesday, March 14.
Leave a Comment
About the Contributor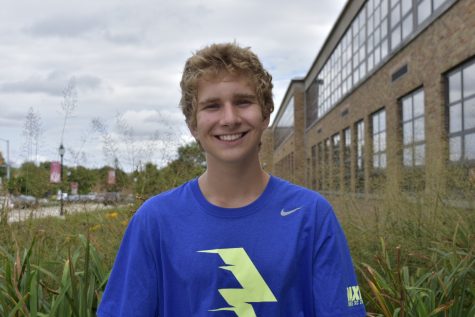 Joseph Miscimarra, Multimedia Editor
Joseph Miscimarra, multimedia editor for Devils' Advocate, enjoys eating absurd amounts of cereal to fuel his busy day. When he isn't volunteering for...