New Netflix show about the Hype House sparks controversy
Loading ...

On April 22, Netflix  announced that they are releasing a new reality TV show featuring some of Tik Tok's most famous dance stars in the Hype House. The Hype house formed in December  2019 when Daisy Keech, Chase Hudson and Thomas Petrou decided to collaborate together and buy a mansion in Los Angeles, Calif. which they named the Hype House. In the past, the Hype House included some more popular stars such as Charlie and Dixie D'Amelio and Addison Rae. However,they have since left the group.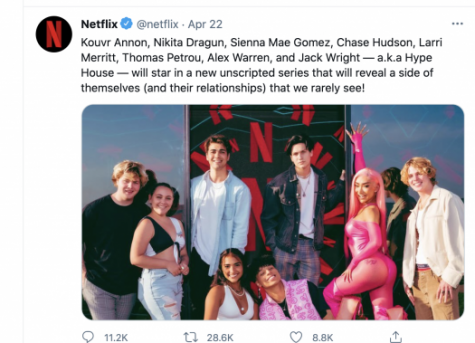 Today, current Hype House members to expect to see in the show include Nikita Dragun (who started on YouTube and became a major makeup influencer), Sienna Mae Gomez (a vocal advocate for body positivity), and Chase Hudson, also known as Lil Huddy. Other cast members include Kouvr Annon, Larri Merritt, Thomas Petrou, Alex Warren, and Jack Wright. 
According to Netflix, the unscripted series will observe the stars' rise "from humble beginnings to overnight fame." It also promises some serious next steps for the creators, watching "as they come into their own, fall in love, and tackle the next stage of their lives." 
"Personally, I am not going to watch the show but I can understand why people might find it interesting," said Sidh Leekha, senior. 
Since they are filming now, it probably will take some time before Netflix drops a trailer or a release date for the show. Netflix users have vocalized their displeasure in the decision to make the show.
One Twitter user wrote "Took off all the good shows and never renewed any seasons of the shows still standing. And now putting out a hype house series 🙁 ."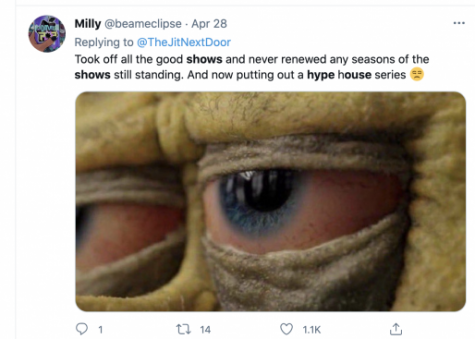 Hype House member Nikita Dragun clapped back at angry fans in a now-deleted Instagram story and said, "Everyone had a lot to say about the Netflix show, and that's fine, but I just feel like, at the end of the day, you can't get mad at people for winning and succeeding, and if you do, you're literally just a hater."
In response to her words another Twitter user said, "She thinks her having a Netflix show like the Hype House is the only way people 'win' and 'succeed'. Sad."
A petition on Change.org was created recently with a goal to get the Hype House show canceled. With currently over 17,000 signatures counting, it's no secret that there's strong opposition to this reality show coming to Netflix. TikTok stars are often criticized for the way they rose to fame, and this petition also calls to the fact that the streaming service has gotten rid of numerous good shows with solid followings. 
"I genuinely think the new hype house show is a waste of time. Both for the media and Netflix itself. A lot of shows are very entertaining and have very talented actors," said Marily Bergeron, senior. "I think of the new hype house show as just a very bad version of a reality show. I am also very upset that numerous shows were taken off Netflix, to presumably make room for this new show. I will not be watching it."
Leave a Comment
About the Contributor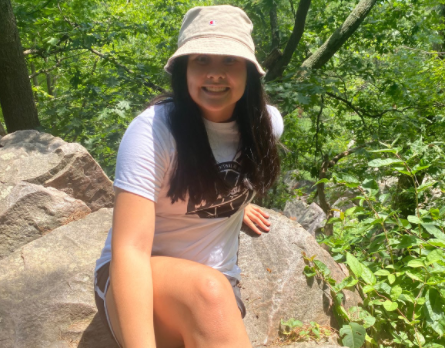 Gabi Camara, Writer
Gabi, a senior, is beginning her first year as a member of the Devil's Advocate team. When not a cross country and track practice, you can find...