On Oct. 26, Taylor Swift released "1989 (Taylor's Version)", which includes five new vault tracks, along with all the songs on "1989", which was released in 2014. 
In case you did not know about Swift rerecording her albums, here is why she is. Swift used to be an artist with Big Machine Records, which took ownership of her songs after she left the label in 2018. The label then decided to sell her songs to another company, Shamrock Holdings. Therefore, Swift decided to re-record her first six albums so she could own her songs, adding (Taylor's Version) to the end of each album title she has re-recorded.
With these re-recorded albums, Swift has added several vault tracks. Vault tracks are songs that Swift planned to release in her original albums, but were never recorded or put on them.
Along with Swift's classic hits such as "Style", "Bad Blood" and "Shake it Off", five new vault tracks were released on "1989 (Taylor's Version)".
Story continues below advertisement
These vault tracks have led to differing opinions from Swift's fan base. 
"The new 1989 album sounds so different because her voice is way more mature," said Dalia Bajwa, sophomore. "The original album is so iconic and I feel like nothing can replace it, but the vault tracks are amazing."
I agree with Bajwa. I started listening to Swift since I was 8 years old and have attended her Eras Tour Concert in Chicago this past summer. Currently, my favorite albums are "Folklore" and "1989 (Taylor's Version)".
So here are my thoughts on the five new vault tracks on "1989 (Taylor's Version)".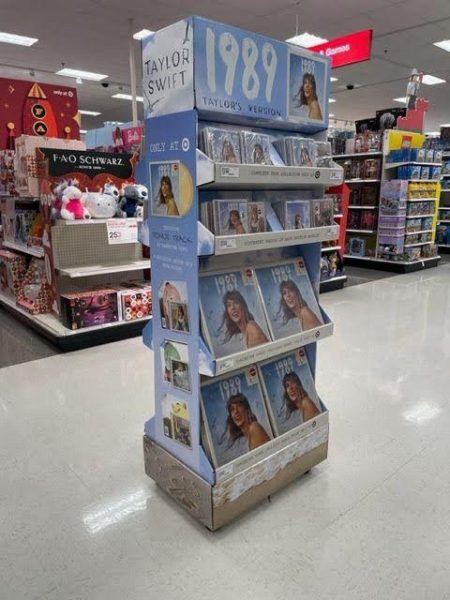 "Sl*t!"
Out of all the vault tracks that released, "Sl*t!" is my least favorite. "Sl*t!" is a slower song about a new relationship blossoming that is worth the negativity and the drama from people. 
I was expecting this song to be more upbeat and loud, however, it is slow.
Although the music is not as upbeat, the lyrics are still impactful. The instrumentals are unique and intriguing, keeping listeners interested. It presents a noticeable contrast to the slower aspect of Swift's voice that is present throughout the song.
"1989 (Taylor's Version)" vinyls, CD's, and more are being sold at 
Targets nationwide. Target is the only store selling Swift's Tangerine Edition Vinyl, which includes the exclusive song "Sweeter Than Fiction".
"It is perfect to listen to when you are trying to study," said Eleanor Roberts, freshman. "It is a good study song because it does not make you want to always sing along, so you can focus."
Favorite Lyric: 
In a world of boys, he's a gentleman
"Say Don't Go"
As of now, "Say Don't Go" is my favorite vault track on "1989 (Taylor's Version)". 
"Say Don't Go" is a cheerful song about someone falling out of love with you, while you hope that they ask you to stay. It is an entertaining song that is perfect for screaming in the shower.
"At the moment, 'Say Don't Go' is my favorite vault track," Roberts said. "I feel like it fits every single mood and vibe, I am obsessed with it."
"Say Don't Go" is such a classic pop song, and I love it. 
Favorite Lyric:
Why'd you have to lead me on?
Why'd you have to twist the knife?
Walk away and leave me bleedin', bleedin'
Why'd you whisper in the dark
Just to leave me in the night?
Now your silence has me 
Screamin', screamin'
"Now That We Don't Talk"
"Now That We Don't Talk" is a song with a fast tempo that is easy to sing along to. The song is about navigating life and changes following a breakup.  Although it is not necessarily my favorite song, it is still enjoyable to listen to.
In my opinion, "Now That We Don't Talk" sounds like it should belong on the "Midnights" album. In a way, the instrumentals in the back sound futuristic and are extremely similar to the music on "Midnights". 
"[Swift] used really unique instruments that are not simple pianos or guitars," said Sohan Whittier, sophomore recording artist. "Her vocals are very crisp and clear so you can feel the emotion that she is portraying."
"Now That We Don't Talk" is the perfect song to listen to when you need a pick me up, after taking a test or before an important sports game. 
Favorite Lyric:
I called my mom, she said that it was for the best
Remind myself the more I gave, 
you'd want me less
I cannot be your friend, so I pay the price of what I lost
And what it cost
Now that we don't talk 

"Suburban Legends"
Yet again, this song sounds like it belongs on "Midnights". The instrumentals are unique, but somehow so similar to several of Swift's other songs. 
"Suburban Legends" is about two lovers who are successful beyond their small town, but try to stay together through everything.
"I think that the tempo and message of Suburban Legends is similar to Timeless from 'Speak Now (Taylor's Version)'" said Aanya Shah, sophomore. "They both reminisce about the past and what her relationships could have been." 
The first time I listened to this song, I was not a fan. But it has grown on me and definitely deserves more than one listen before deciding on a verdict. 
Favorite Lyric:
You were so magnetic, it was almost obnoxious
Flush with the currency of cool 
I was always turnin' out my empty pockets
"Is It Over Now?"
Let me just start by saying that I love this song. Something about it just makes you want to sing along even if you're not a hardcore Swiftie like me.
However, Swifties are convinced that this song is about Swift's previous relationship with Harry Styles. 
Swift includes lyrics like, "red blood, white snow" and "blue dress on a boat", alluding to two incidents throughout their whirlwind relationship. One being about their snowmobile accident and the other being when Swift left their British Virgin Islands vacation, early and alone.
This song is made to be listened to whenever. Whether that is hanging out with friends or walking down the hallways at Central, it is simply a versatile song that I cannot get out of my head.
Favorite Lyric:
Let's fast forward to 300 
Awkward blind dates later
If she's got blue eyes, I will 
Surmise that you'll probably date her 
Swiftie or not, anyone can find a song to relate to or sing along to on this album. 
Although my opinions may change, this album will remain a masterpiece until the end of time. 
In fact, this album is already a hit. According to Spotify, "1989 (Taylor's Version)" has broken the record for most-streamed album in a single day.
To listen to "1989 (Taylor's Version)", click here.