Not another high school play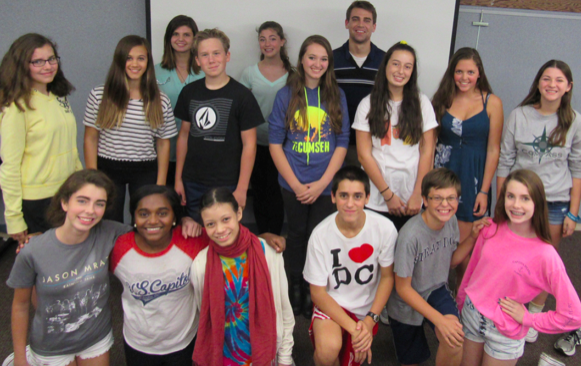 Come and see Hinsdale Central's 2015 freshmen play, Just Another High School Play. Directed by Mr. Chris Kostro, English teacher, opening night is Thursday, Oct. 8 at 7 p.m. in the auditorium.
Hinsdale Central puts on a few plays a year, with the freshmen play being one of them. With a school full of talented people, the freshmen play is another forum to showcase Central's talent.
"[It gives] our freshmen more chances to perform," Kostro said.
Basically, the concept of the play entails what students would have to do if they ran a play by themselves.
"A director left the kids on their own, and they try to put together as many plays as they can because they have a whole crowd waiting," said Fiona Connelly, freshman and actor. "And they have no idea what the play they were supposed to be doing was so they just find a bunch of scripts and throw something together."
Senior Jessie Muzquiz, assistant director loves acting. He enjoys watching a play come together from behind the scenes.
"Since you're behind the scenes you are putting together the whole entire show," Muzquiz said.
If you are in need of tickets, call the box office at (630) 570-8165 or go to www.hinsdaledrama.com to learn more about the drama department. Tickets are $7.oo each.
Cast
Anna Jasko- Assistant Director
Emily Goggin- Stage Manegar
Fiona Connelly- Female Lead and Craig
Jacklyn Wittrock- Extra and Meg
Tim Moser- Romeo and Shakespere
Jannifer Stavreva- Grad Student and Beth
Harini Loganathan- Narrator
Hannah Kiperman- Marlow and Improv character
Jordan Cibinski- Carrie, Amy, and Logan
Lana Millman- Lana and Puppitere 
James Lekas- Male Lead, George amd Enforcer 1
Kayla Hoffman- Female Thespian, Jo, and Noel
Micky Horstman- Announcer, Juliet and Male Meg
Allie Moreton- Emily and Plant 1,2, and 3
Emily Candon- Hamlet and Teena
Harry Priester- Male Beth, Tom Z, Male Thespian, Male
Leave a Comment