February concerts come to Chicago
This February in Chicago is packed with concerts from various genres that students can look forward to. Here's a look at some of the events that are sweeping the city, sorted by genre.
Alternative
On Friday, Feb. 16 Portugal. The Man will be performing at the Aragon Ballroom along with Twin Peaks. Portugal recently released their new album titled "Woodstock" that gained a lot of popularity. The hit single off the album, "Feel it Still", won the band a Grammy for Best Pop/Duo Performance.
"I plan to see Portugal. The Man and Matt and Kim as of now, but I plan on going to more [concerts] and a bunch of festivals over the summer," said Michael Brose, senior. "I like going to them because it's a fun way to escape from the [problems] of the real world. Also, it's cool because I enjoy meeting the bands and being able to thank them for making the music that I listen to daily. You also make a lot of friends going to a bunch of shows, so now I have friends all over the country."
Another alternative rock group, AWOLNATION, the band behind major hit "Sail", is back on tour with a new album titled "Here Come The Runts". They were in town on Wednesday, Feb. 14 at the Aragon Ballroom.
R&B
Dvsn performs at the House of Blues on Friday, Feb. 16. This Toronto-based R&B and Hip-Hop band toured with Drake before dropping their album "Morning After" in October 2017.
Rock
Classic rockers from the '70s will also appear in Chicago this month. Robert Plant, singer of Led Zeppelin, will perform at the Riviera Theatre on Tuesday, Feb. 20. Additionally, Steve Winwood, a British musician whose career has stretched over 50 years, will be at the Chicago Theatre on Thursday, Feb. 22.
A new tour celebrating David Bowie's life will visit the Vic Theatre on Friday, Feb. 23. The tour takes audience members on a journey through Bowie's life, from "Space Oddity" to his farewell album "Blackstar".
Country
Country crooner Blake Shelton will perform at the Wireless Center on Friday, Feb. 23. Brad Paisley will also perform at the Allstate Arena during his Weekend Warrior tour on Saturday, Feb. 24.
No matter what genre students enjoy, Chicago is constantly hosting different artists that they can jam with live. McKenna Hayes, junior, recently saw alternative group Milky Chance with pop performer Lewis Capaldi at the Riviera Theatre on Friday, Jan. 26.
"My favorite part was that the theatre was super small, so everyone was close to the stage. There was also this guy performing the harmonica, and he was amazing at it, so it made the experience super fun," Hayes said.
Other students prefer a more electronic sound and seek out those artists.
"On [Friday, Feb. 9], I saw Jerry Folk and SAINT WKND; it was a great show," said Chloe Johanson, junior, about the two dance/electronic acts that Subterranean hosted.
With all the stress that can pile on during third quarter, attending concerts is a great way to relax. Be sure to take advantage of some of the performances coming through Chicago this month.
Leave a Comment
About the Contributor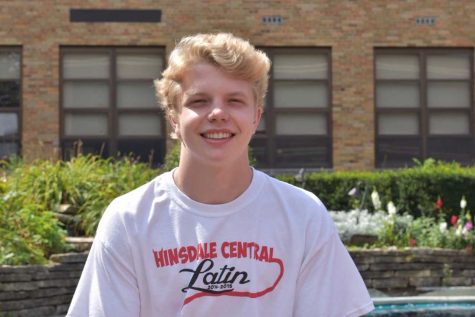 Scott Bitautas, Writer
Scott is a junior writer who loves playing basketball and tends to spend most of his day outdoors. Scott spends his summers swimming in Lake Michigan and...