Childish Gambino returns with mysterious album "3.15.20"
On March 15, Donald Glover (also known as Childish Gambino) held a surprise premiere of his newest full-length album by streaming it repeatedly throughout the day on donaldgloverpresents.com. The following weekend on March 22, the album was officially released on all streaming services as "3.15.20" with blank white cover art, and a mostly untitled tracklist. Every song (with two exceptions) is named after the time in the album's duration in which they start.
As mysterious as this record was (and still is even after releasing), anticipation for a new Childish Gambino album has been rampant ever since his monumentally viral and powerful music video for "This is America" in 2018. Glover's evolution as a musical artist from the immature battle rap and barely tolerable insecurities on early mixtapes and his debut album "Camp", to the psychedelic, conceptual, and ambitious album/screenplay of "Because the Internet", all the way up to the P-funk worship of "Awaken My Love!", has held the attention of music fans across the board throughout the 2010s.

With each new album being more well-received than the last, there was reason to believe that his latest offering would be his strongest yet, especially coming off of his most successful and thought-provoking single so far. On top of this, Glover himself stated in 2018 that he had plans to retire his music career after this album, and while I doubt that'll actually be the case given the track record for most musicians who say that, it gave hope to fans that this'll be his best work.
While "This is America" doesn't show up on the album, "Feels Like Summer", Glover disguises a call to action for climate change as a soulful summertime bop, which appears near the end of the tracklist and has a sound that falls in line with much of the record.
"I didn't really like "Feels Like Summer" originally" said Fareed Khan, senior. "But It's grown on me after hearing it with the whole album"
In some ways, "3.15.20" is a continuation of the 70s funk and soul revival that Glover conjured up on his previous effort. There's very little rapping on the album, with the only remnants of hip hop being confined to punchy and steady drum beats on tracks like "Algorhythm" and "19.10" (two of the album's biggest highlights), and the spit-dribbling, braindead attempt at auto-crooned industrial hip hop on "32.22". This gives the album room to experiment with genres that Glover has dabbled in before and to further flesh out his sound.
However, his attempts to breach outside of his comfort zone are both this album's biggest strength and its biggest weakness. For example, the blissful psych-pop/P-funk crossover on "24.19" would be an excellent song if the second half didn't derail it into an indulgent eight-minute mess. This specific breed of modern psychedelia fused with old school funk/soul is attempted numerous times throughout the album, and while there are a few good hooks and instrumentals here and there, the only track where this is wholistically satisfying is "47.48" with it's synthetic, yet lush vocal harmonies and faint woodwinds that keep it from getting stale.
On top of such cuts are cool experiments like the ambient opener, which uses a faint drone and echoed vocals to set up the epic tone for the rest of the album, and the mostly acapella "39.28", which sounds like a modernized version of "Hide and Seek" by Imogen Heap. That being said, there are just as many experiments that don't go over too well, like the country-tinged pop-soul of "35.31" that is seriously difficult not to laugh at, and the aforementioned "32.22", which is one of the most obnoxious attempts at being experimental that I've heard in a long time.
Overall, while there are a handful of brilliant moments on "3.15.20", the hefty amount of underdeveloped ideas, poor executions and tracks that overstay their welcome turn it into a mixed bag. I really hope that Glover continues to refine his sound in the future, as not only would this be a lukewarm album to end his career with, but there's much potential here for the epic and soulful odyssey that he is likely capable of dropping.
Leave a Comment
About the Contributor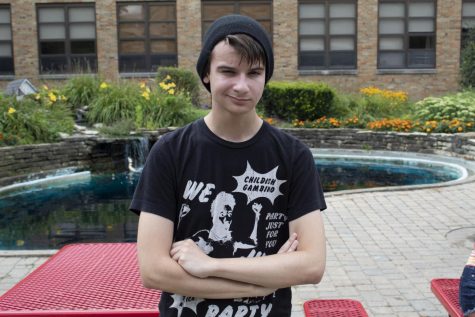 Jack Ging, Writer
Jack Ging is a senior who really enjoys writing and music. He has written hundreds of music reviews and has a YouTube channel with video essays about various...