Top three snacks to try from Trader Joe's this fall
Every year in late September, many Trader Joe's shoppers look forward to the grocery store chain setting out their seasonal fall treats. Since there's a location in Downers Grove, about ten minutes away from Hinsdale Central, it makes sense why so many students and parents shop there.
During this time of year, there are many items to choose from that it's difficult to know what's worth your money and incorporating into your diet. Below are 2021's top three must-have fall foods from Trader Joe's.
#3: Maple & Sea Salt Kettle Corn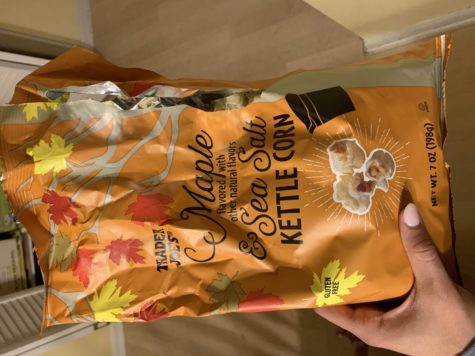 Who doesn't love a great seasonal kettle corn? This treat has a spot-on balance of sweet and salty and is perfect for a scary movie night, family gathering, or even just an after-school snack. It's made in a light maple-sugar glaze, making it feel that much more like fall.
At only $2.49 a bag and exclusively at Trader Joe's, it's an indulgent delicacy that won't break the bank. 
"It is lower priced and there's a lot of unique products," said Angie Ursillo, mother of Ellie Ursillo, junior. "There are certain things only available at Trader Joe's and nowhere else." 
For more information regarding ingredients and nutrition, click here.
#2: Butternut Squash Mac & Cheese Bites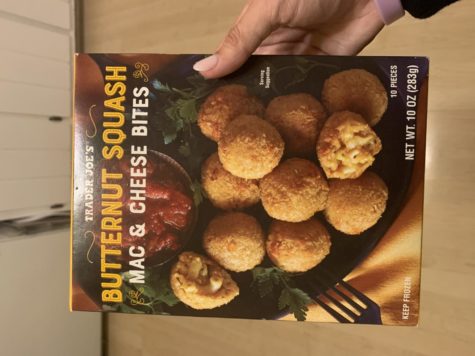 While seasonal desserts are a necessity during the fall months, it's important to remember the many amazing savory foods there are to be enjoyed throughout the season as well. This unique creation takes macaroni and smothers it in a sauce made up of butternut squash, multiple cheeses and holiday spices. It's then fried and bundled into a warm ball of deliciousness. It's truly something special.
"I tried the Butternut Squash Mac & Cheese Bites when my parents had family over," said Christian Youngman, junior. "I was surprised by how good they were, and everyone loved them."
For more information regarding ingredients and nutrition, click here.
#1: Petite Pumpkin Spice Cookies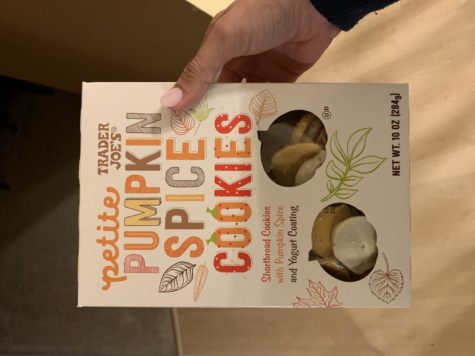 This list wouldn't be complete without a pumpkin-flavored item. These cookies meet all of the necessary criteria of a great holiday cookie. They have prominent notes of pumpkin spice, cinnamon and are even shaped like little pumpkins. They're also covered in a creamy yogurt coating and sprinkles that tie it all together nicely. At only $3.29 a box and 130 calories per four-cookie-serving, these are an affordable treat almost anyone can enjoy.
I am not the only person who loves these cookies though, so it's important to snag a box of these before they're all gone.
 "All of our pumpkin items are really popular," said Shay Doshi, junior and employee at Trader Joe's. "We sell out of our most popular items quickly."
For more information regarding ingredients and nutrition, click here.
Leave a Comment
About the Contributor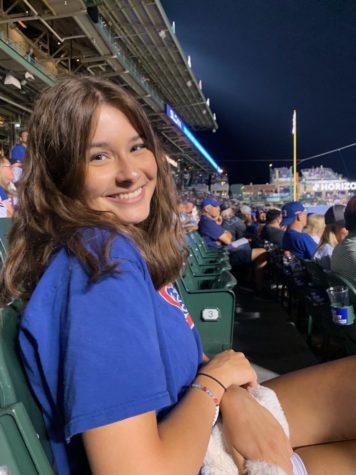 Lily Ging
Lily Ging, senior, is excited to be an Editor-In-Chief for Devil's Advocate this year. She spends most of her time cheerleading for the Hinsdale Central...