Central's resident punk band: Down the Hall
Senior best friends Ethan Hallberg and Logan Melia had a somewhat unintentional beginning to their band Down the Hall. After playing basketball or just hanging out, the two would jam out to their favorite songs, though neither had the intention to fill their upperclassmen years with band practice and shows. However, on August 15, 2021, when Weezer, Fall Out Boy and Green Day made a visit to Wrigley Field, they knew there was nothing else they wanted to do but rock and Down the Hall was born.
"Music is my whole life," said Ethan Hallberg, guitarist and one of the founding members of the band.  "Logan picked up the guitar along the way. We're best friends [and] we now both play instruments."
The duo then picked up Gio Carlini, sophomore, and Owen Hallberg to play alongside Melia's vocals and Ethan Hallberg's guitar. Owen Hallberg, brother to Ethan Hallberg, plays bass and Carlini, friend of both, plays drums. They completed the Down the Hall quartet, aptly named after Downey, Melia's middle name, and the Hallbergs' last name. 
"Ethan wanted me to do the Variety Show because he was trying to get into guitar," Carlini said. "He asked me to play drums for the band."
At the moment, Down the Hall is primarily a cover band, playing a variety of artists and genres. Though they tend to cover Alternative classics from the late 90s to the early 2010s, such as The Killers and Green Day, they play a good share of modern pop. 
"We even picked up Taylor Swift songs for the set," Melia said. "We're supposed to be this punk band and we're playing 'Picture to Burn.'"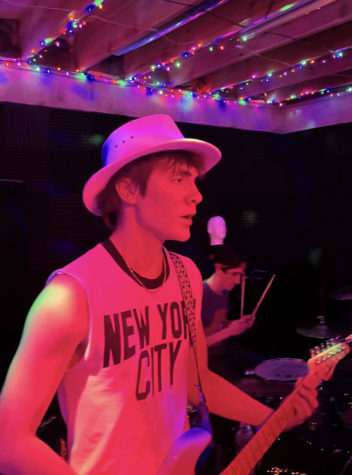 Shows start days before the actual date when the band decides its setlist. Though they try to keep a semblance of continuity, keeping two or three of the same songs, they try to make a relatively new setlist for each show depending on their theme for that night.
The night of the show, the band meets around two hours prior to make any finishing touches. Each member has their own personal method of getting ready, ranging from holistic stretching to needing a liquid jolt. 
"For me, it's drinking dangerous amounts of caffeine," Ethan Hallberg said. 
During the actual show, the performance of it all ends up being a more powerful experience than expected. Commanding the crowd and building a shared camaraderie between the band members and their audience remains at the forefront of Down the Hall. 
"It opens up my soul every time I play drums," Carlini said.
For others, it's less spiritual and more of a complete blackout, only coming to at the end of the setlist.
"I remember one time we were [playing] 'Smells Like Teen Spirit' and I just kept playing through because I practiced so much," Melia said. "I remember being like 'Oh my God we just played for 90 minutes.'" 
Starting off with small shows for their friends, Down the Hall has always made their audience a priority. From their music taste to how they react to certain parts of the show, the band takes it all into account and makes it take precedence over their next show.
"I think the audience really makes the performance," Ethan Hallberg said. "Especially when they're up close, you can feel the energy."
Both Ethan Hallberg and Melia plan to take the band with them when they go off to college next year. Uncoincidentally, the two are both planning to attend the University of Iowa in the coming fall, with the growing music scene in Iowa being a contributing factor. 
"The rate at which we're growing right now, it's like there's no limit as to how high we could go," Ethan Hallberg said. 
Down the Hall will be performing at the Variety Show on March 15 and 16. For more information on their music or future show dates, you can visit their Instagram.
Leave a Comment