Thanksgiving break marks the beginning of the end to a dreadful first semester. To take some of those final blues off your shoulders, here's a list of my top five favorite Thanksgiving TV episodes.
Gilmore Girls: "A Deep-Fried Korean Thanksgiving," Season 3 Episode 9
If I'm doing a fall seasonal list, you know it's going to have an obligatory "Gilmore Girls" mention. I can't help it, "Gilmore Girls" is a show that is just so utterly fall and cozy. 
The show revolves around a young mother and her teenage daughter who fall into some pretty troubling situations.
Story continues below advertisement
In this specific episode, they attempt to attend not one, not two, not three, but four different Thanksgiving dinners. It's a true depiction of the chaotic yet heartwarming moments felt throughout Thanksgiving. 
"It's a drama filled episode that really makes you laugh," said Henna Razeq, junior.
However, the real treat is watching a very loopy Sookie, Lorelai's best friend, attempt to cook her family's Thanksgiving dinner.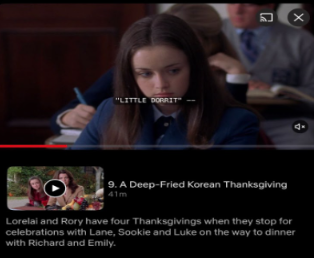 Friends: "The One with All the Thanksgivings," Season 5 Episode 8
"Friends" is iconic in terms of their holiday episodes, with each one having its own strangely specific problem. Although, what's better than one iconic Thanksgiving episode? A compilation of them.
"The One with All the Thanksgivings" follows the gang sitting around the TV reminiscing about past Thanksgiving mishaps, making it easily an iconic episode in and of itself.
"I think I watch this episode almost every year," said Brigid Noonan, junior. "I can watch any of them and I'd definitely laugh."
Gossip Girl: "The Treasure of the Serena Madre," Season 3 Episode 11
"Gossip Girl" is a show about lies, deceit and unrealistically amazing drama. In "The Treasure of the Serena Madre," all of this season's aforementioned lies, deceit and unrealistically amazing drama unfolds at a single Thanksgiving dinner. These shocking plot twists and the high tension creates a very entertaining watch for viewers. 
"It's really stressful because you don't know what's gonna happen next," Myra Cunningham,  junior. "[That] makes it really fun to watch." 
An iconic moment in this episode is when key plot points develop, shocking the audience. During this scene, "Whatcha Say," Jason Derulo's hit song, plays in the background, making it unbelievably not serious. This scene has become an internet sensation, being the subject of many memes that resurface yearly during the Thanksgiving season.
The Office: "WUPHF.com," Season 7 Episode 9
In this hilarious take on a Thanksgiving special, Michael is doing what Michael does best: shenanigans. But what else is new? 
The real star of this episode is Dwight as he attempts to capitalize off Thanksgiving by creating a "hay festival" in the Dunder Mifflin parking lot. 
It's funny, feel-good and will definitely put you in the Thanksgiving mood, especially after seeing Dwight try to run a "hay festival."
How I Met Your Mother: "Slapsgiving," Season 3 Episode 9
"How I Met Your Mother" is a very close runner up to "Friends" in terms of having iconic holiday episodes, and this one takes the cake. The show revolves around the old Ted Mosby telling his children about the times he and his friends shared before he met their mother. 
This episode, as the name implies, involves some slaps. Preceding the special, Barney lost a slap bet in which Marshall has the ability to slap Barney spontaneously three times.
The comedic appeal of this episode comes from the fact that Marshall only has one slap left, and he's going to use it on Thanksgiving. This leads to a very paranoid Barney, which is hilarious for viewers to watch. 
You can watch "Gilmore Girls" on Netflix, "Friends" and "How I Met Your Mother" on Hulu, "Gossip Girl" on Amazon Prime Video and "The Office" on Peacock.