Wardrobe warm up: Fall outerwear pieces for every style
When prepping for the autumn chill set to arrive soon, incorporating outerwear and layers into your daily outfit is a great way to stay warm. Whether you're on your way to catch the bus, or going out with friends, there is surely a jacket out there for every style.
One option of outerwear is a piece that has been appearing in stores year after year: the utility jacket. This style is perfect for throwing on over any casual outfit, whether you're spending the day outside or indoors. With the pockets and drawstring details, this piece is a fun, versatile option.
Though they can come in a variety of colors, the most popular and recognizable color of utility jacket remains to be the classic shade of army green.
"I like pairing my utility jacket with an oversized t-shirt and some faded jeans for a more edgy vibe," said Katie Connelly, senior.
Another recent trend has been the bomber jacket. These trendy, lined jackets can add a sporty, vintage, touch to your look while also keeping you warm. Dating back to the 1950s, this style is now making a comeback. With a few stylish updates and modifications, they are returning to stores with a more modern feel. Bomber jackets not only come in a variety of colors, but also textures.
Bomber jackets have also recently been seen on the runways during the recent New York fashion week shows, hinting at the fact that they will be here to stay well into the spring.
If you're headed to a fancier, more dressy occasion, throwing on a duster jacket is the perfect way to keep warm without completely covering your outfit. Duster jackets are typically long in length and often feature details such as belts, ties, cascading lapels, and even cuffed sleeves. These are ideal for layering over dresses and skirts due to their elegant, flowy silhouette.
You don't have to travel far to find the perfect jacket for your style this season. During these pre-winter months, clothing stores are stocked with light knits and plenty of trendy outerwear pieces to choose from.
"I like to go to American Eagle and Charlotte Russe, which are my two favorite stores for the season," said Faith Negley, junior.  
However, for long days at school, students often want to ensure that their style prioritizes comfort. Hoodies and athleisure-wear remain popular among students who are looking for something easy and cozy. Popular brands include North Face, Zella, and Columbia. However, depending on the occasion, students still enjoy dressing to fit wherever they're going.
"I like to wear hoodies during school, but if [it's] during the weekend, I like to wear a cute, light jacket," said Amaris Hernandez, junior.
With many local and online stores to shop from, you are guaranteed to find the perfect piece for you. Be sure to stay warm and have fun trying out this season's outerwear trends.
Leave a Comment
About the Contributor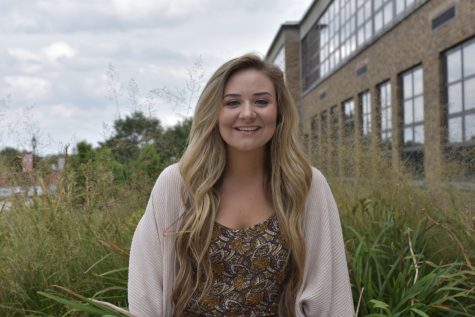 Holly Swasko, Writer
Known for her love of rose gold and cardigans, Holly Swasko, senior, will rarely be seen without at least one of them. When she isn't posing for an "OOTD"...