A day at NM Cafe
Hidden on the second floor of Neiman Marcus, NM Cafe is easily one of the best cafes in Oakbrook Shopping Center.
I walked into the restaurant on a Monday morning for lunch, and it wasn't too crowded. There was definitely no point in making a reservation, but since it was Martin Luther King Jr. Day, it may have affected the schedule.
Everything was bright and a lot of natural light was beaming in from the large glass windows. The table decor and silverware were all stylish and modern. The overall appearance was absolutely stunning and bright.
To start us off, our waitress brought us water and chicken broth in a little tea cup for each person. Later, a plate with an egg popover and strawberry butter was passed around. The chicken broth and egg popover were both tasty, and I really enjoyed their system, for you don't have to share your bread or butter with others. The egg popover was soft, and the strawberry butter really tops it off with a rich, sweet taste.
Unsure as to why the cafe served chicken broth like a cup of tea, I asked our waitress, Susan McLaughlin.
"It's a Neiman Marcus tradition to soothe you and warm you up before you eat," McLaughlin said.
I was unfamiliar with the menu and figured McLaughlin would know the best dish to order.
"I think my favorite dish is the Baja Salad with the cilantro and the tortilla strips on top," McLaughlin said.
The Baja Salad was definitely one of the best salads I've ever had, it was flavorful and had ancho-lime chicken, avocado, tomatoes, roasted corn, pumpkin seeds, greens, feta cheese, tortilla strips and cilantro-lime vinaigrette.
One of my friends ordered the Braised Pot Roast, which included a generous amount of braised beef served alongside creamy mashed potatoes, sautéed green beans and carrots. She said she would recommend this, especially to meat lovers.
Another friend ordered the Roast Turkey sandwich, which she loved and kept commenting on how good the "green goddess aioli" creamy sauce was on the toasted sourdough.
"The sandwich was overall amazing. I loved the unique sauce on a simple turkey sandwich," said Rand Abyad, senior.
Finally, another one of my friends ordered the Warm Roast Beef sandwich, served with salted roasted fries and pan jus. Pan jus simply means "meat's juice" in French, which is what they dipped their sandwiches in — almost like an Italian beef sandwich. It was scrumptious, like the rest of the dishes.
All in all, I would definitely recommend NM Cafe, for the service was almost as outstanding as the food. Everything was spotless and clean, and the staff is friendly, all of which contributes to the welcoming atmosphere of the Cafe. To top everything off, our waitress left us mint chocolates for a refreshing feel.
NM Cafe is located at 6 Oakbrook Center, Oak Brook, Ill 60523
To access the full menu, click here.
Leave a Comment
About the Contributor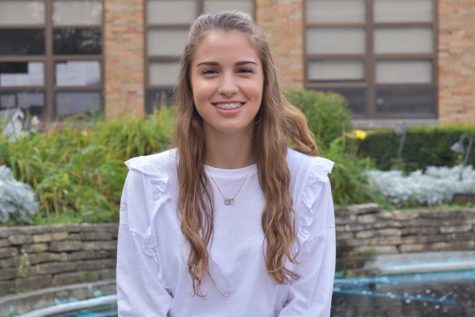 Samia Douedari, Section Editor
Samia Douedari is a senior who enjoys to write whether it's for a class or for fun. Along with being a part of the cross country and track team at Hinsdale...