The all new Kabob Q
Recently opened on August 20, 2017, Kabob Q is a popular Middle Eastern restaurant that allows you to make your own bowl, sandwich, or platter to your liking.
Typically, Middle Eastern restaurants aren't as fast and easy as Kabob Q. Their system is different in that it's similar to Chipotle's. When you order, there is a variety of toppings and meat you can add to your platter, bowl, or sandwich. This makes it easy for those who are new to the food to see the food and ask about it before they make a blind order. Many students are also in favor of this easy type of service.
"You haven't lived until you eat at Kabob Q. [It's] ten out of ten for food, and then out of ten for customer service," said Madison Heimsoth, senior.
I walked in on a Monday afternoon, and the place was quiet with soft Arabic music playing in the background. The staff immediately welcomed me as I entered, and I was asked what I would like to order. I wanted to try a variety of their food, so I ordered a few things to-go for my family. I first ordered 8 pieces of falafel since this is the classic Middle Eastern appetizer.
Falafels are fried balls of ground chickpeas that are seasoned with onions, scallions and spices, such as parsley, garlic, cumin and coriander. The falafels were amazingly crunchy on the outside and soft in the inside. I've tried falafels from almost every Middle Eastern restaurant in the Chicagoland area, and these are easily up there.
Next, I ordered a falafel wrap. The falafels were previously described, but when put in a sandwich, they add salad, pickled vegetables, hot sauce, and tahini sauce along with six falafel balls. You can pick what you want to put inside the sandwich, but I chose to make the traditional sandwich and put everything they usually would. It was juicy and flavorful, and the wrap was grilled down in a panini-maker to a nice crisp.
Finally, my sister requested that I order her a combo platter, which is essentially a bowl with both chicken and steak shawarma. Along with the meat, I chose parsley salad as the base and then pickles, onions, tahini sauce, and garlic sauce as toppings. She said it was delicious and left her wanting more.
"I love working here. The customers are awesome, and the kofta kabob here is even better," said Feras Nassif, employee.
Kabob Q doesn't disappoint, especially if you're craving a different taste or looking for authentic Middle Eastern food. Students enjoy the atmosphere, food and service of the restaurant, even if they work there.
"I just love when the place gets so busy and packed, and we're all just running around, trying to do so many things at the same time. We're all working individually but together at the same time," said Sarah Nassif, senior and employee at Kabob Q.
All in all, Kabob Q is definitely a restaurant worth trying. The flexible order system and authentic food make it an all-time student favorite, despite the fact that it just recently opened. I would recommend this restaurant for a different hangout spot or simply a taste for a Middle Eastern flare.
Kabob Q is located at 858 75th St., Willowbrook, Ill. 60527.
Leave a Comment
About the Contributor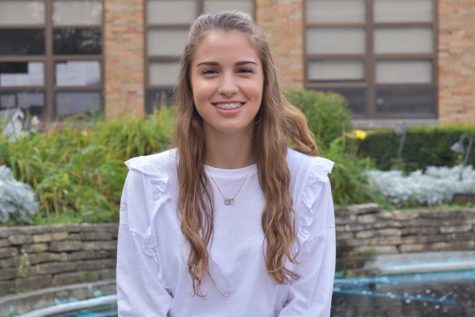 Samia Douedari, Section Editor
Samia Douedari is a senior who enjoys to write whether it's for a class or for fun. Along with being a part of the cross country and track team at Hinsdale...