Dips 'n Dogs, a crowd favorite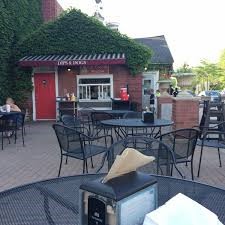 Local restaurant, Dips 'n Dogs, has been a crowd favorite for students since middle school. With a variety of selections students continue coming back to this establishment, but with colder weather creeping in, the time to go is sooner than later given its outdoor seating only.
Dips 'n Dogs sells a variety of hot dogs, french fries, ice cream, chicken, burgers, beef and sausage, and meatless options. Basically, there's something for everyone.
The restaurant is a brick building covered in ivy with great food. A variety of people go there and are all looking for the same thing- a great meal and a good time.
"My favorite part was how chill and relaxed everyone was and that you could always have fun there," said Julio Martinez, junior who worked as a cashier for two months over the summer.
The restaurant prides itself in how comfortable and homelike it is. The staff is very friendly and love to give large serving sizes.
"I can tell the staff is made up of really hard workers who want to please their customers. It's overall just a great environment to be in," said Kacey Schlais, sophomore and regular customer.
The regulars at Dips 'n Dogs are very diverse in age, ethnicity, and gender.
"[During the summer] the construction workers would always come in the morning, and then middle schoolers/high schoolers in the afternoon, and at night there were more families. So, it was a mix of everyone," Martinez said.
Everything on the menu does pretty well, but one of the most popular items is the french fries topped with their secret seasoning.
"My favorite thing on the menu is definitely the french fries. I could never get sick of them," Schlais said.
One of the only complaints for Dips 'n Dogs is the outdoor seating. There are plenty of tables, but only outside of the restaurant. Customers that are craving Dips 'n Dogs food are limited to going only on days with good weather.
"Business would be even better if there was seating indoors," Martinez said.
With quick preparation time, friendly workers, and great food, Dips 'n Dogs is definitely a restaurant all Hinsdale locals should visit.
"Whether I'm with my brother, friends, or my mom, Dips 'n Dogs is always a place we go to grab a snack or lunch. I've been doing this for as long as I can remember," Schlais said.
Dips 'n Dogs is located in the downtown of Hinsdale at 50 S. Garfield St.
Leave a Comment