Recipes sure to please this Thanksgiving
With Thanksgiving right around the corner, many students may find themselves making a mess in the kitchen, frantically trying to find something to cook for their friends and family last minute.
Fortunately, there's no need to worry for this year's holiday, Devils' Advocate is here to help you avoid a stressful Thanksgiving by picking out some of the easiest and most delicious recipes.
---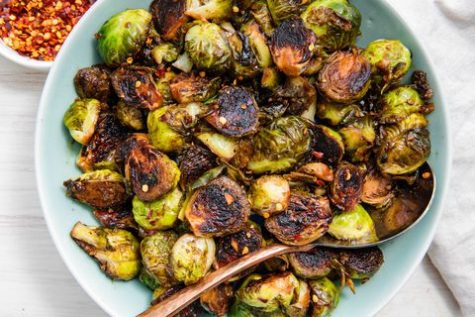 Although Brussels sprouts may not be everyone's favorite food, this is a perfect and easy appetizer recipe that will probably surprise you. By adding a sweet twist to this dish by using honey, even the pickiest guests are guaranteed to not be disappointed.
Servings: 4
Ingredients:
1 lb. Brussels sprouts, cleaned and halved

2 tablespoons extra-virgin olive oil

1/2 cup balsamic vinegar

2 tablespoons honey

1 tablespoon dijon mustard

2 cloves garlic, minced

Kosher salt

Freshly ground black pepper
Directions:
In a large skillet over medium heat, heat oil. Add Brussels sprouts, cut side down, and cook undisturbed, 3 to 4 minutes, until golden on the bottom. 2) Add ¼ cup water and cover. Let Brussels sprouts steam until tender, 3 minutes. If the skillet seems dry, add more water a tablespoon at a time.

Remove sprouts from skillet and set aside on a plate. Add vinegar, honey, mustard, and garlic and whisk to combine. Bring to a simmer and cook until thick and syrupy, 6 to 8 minutes.

 Return sprouts to pan, toss to coat and heat through, 2 to 3 more minutes. Season with salt and pepper and serve immediately.
---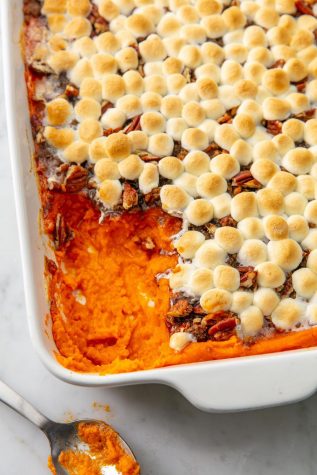 Not only is Sweet Potato Casserole quick to make, but you can also make this dish up to a day in advance to save valuable time on Thanksgiving day. Make sure to keep the dish refrigerated until it's time to add the marshmallows and place in the oven.
Servings: 8
Ingredients for Sweet Potato Casserole:
Cooking spray

5 cups cooked sweet potatoes, mashed

1/2 cup packed dark brown sugar

8 tablespoons butter, melted

1 teaspoon pure vanilla extract

1/2 cup milk

2 large eggs

1/2 teaspoon kosher salt

1 cup packed dark brown sugar

1/2 cup all-purpose flour

4 tablespoon butter, melted

1 cup chopped pecans

2 1/2 cups mini marshmallows
Directions:
Preheat oven to 350° and grease a 9-x-13″ baking dish with cooking spray.

In a large bowl, stir together sweet potatoes, sugar, butter, vanilla, milk, eggs, and salt until smooth. Pour into the prepared dish.

In a medium bowl, stir together sugar, flour, and butter until it clumps. Stir in pecans, then spread evenly over potatoes. Top with marshmallows.

Bake until cooked through and golden, about 30 minutes.
---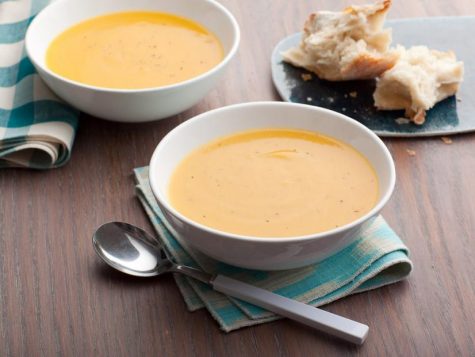 Butternut Squash soup is a great side dish option for those who need something for healthy guests. Here is a recipe that incorporates Thanksgiving flavors into a phenomenal dish.
Servings: 6
Ingredients:
One 2- to 3-pound butternut squash, peeled and seeded

2 tablespoons unsalted butter

1 medium onion, chopped

6 cups chicken stock

Nutmeg

Salt and freshly ground black pepper
Directions:
Cut squash into 1-inch chunks.

In large pot melt butter. Add onion and cook until translucent, about 8 minutes. Add squash and stock. Bring to a simmer and cook until squash is tender about 15 to 20 minutes.

Remove squash chunks with slotted spoon and place in a blender and puree. Return blended squash to pot.

Stir and season with nutmeg, salt, and pepper. 
---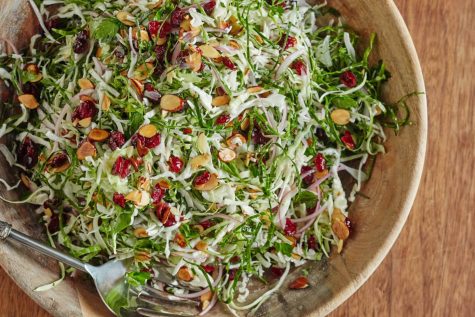 Including salad into the list of dishes you're planning on serving is important to help balance the Turkey and other heavy dishes. Here is a recipe to a salad that can sit out for a while and not wilt like other salads, making it perfect to make on an already overly busy day.
Servings: 8
Ingredients:
1/3 cup vegetable oil

1/4 cup apple cider vinegar

2 tablespoons maple syrup

4 teaspoons Dijon mustard

1/2 teaspoon kosher salt

1/2 medium red onion, finely chopped

1 small head green cabbage (about 2 1/2 pounds, or about 10 cups shredded cabbage)

3/4 cup sliced almonds, toasted

3/4 cup dried cranberries

3/4 cup fresh Italian parsley leaves, coarsely chopped

Kosher salt

Freshly ground black pepper



Directions:
Whisk the vinegar, oil, maple syrup, Dijon, and salt together in a large bowl. Add the red onion and stir to combine. Let sit at least 10 minutes for the flavors to meld. Meanwhile, prepare the cabbage.

Cut the cabbage into eight wedges through the core, then cut the core from each piece. Thinly slice the cabbage wedges crosswise to shred.

Add the shredded cabbage, almonds, cranberries, and parsley to the dressing and toss to combine. Taste and season with salt and pepper as needed.
---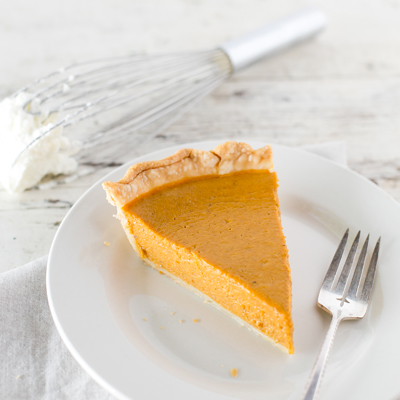 Thanksgiving is never complete without dessert, and pumpkin pie is a favorite among many. Here is a classic and a very easy recipe sure to please everyone at the dinner table.
Servings: 10
Ingredients:
3/4 cup granulated sugar

 

teaspoon ground cinnamon

1/2 teaspoon salt

1/2 teaspoon ground ginger

1/4 teaspoon ground cloves

2 large eggs

1 can (15 oz.) 100% Pure Pumpkin

1 can (12 fl. oz.)  Evaporated Milk, (Or substitute with equal amount lactose-free or almond cooking milk)

1 unbaked 9-inch (4-cup volume) deep-dish pie shell

Whipped cream (optional)
Directions:
Mix sugar, cinnamon, salt, ginger and cloves in small bowl. Beat eggs in large bowl. Stir in pumpkin and sugar-spice mixture. Gradually stir in evaporated milk.

Pour into pie shell.

Bake in preheated 425° F oven for 15 minutes. Reduce temperature to 350° F; bake for 40 to 50 minutes or until knife inserted near center comes out clean. Cool on wire rack for 2 hours. Serve immediately or refrigerate. Top with whipped cream before serving.
Leave a Comment
About the Contributor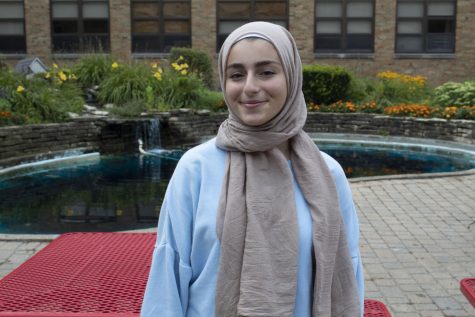 Lana Jawich, Section Editor
Lana Jawich is a senior writer for Devils' Advocate who enjoys painting and playing soccer. When she's not annoying her siblings or spacing out in physics,...