Class of 2018 shares their senior quotes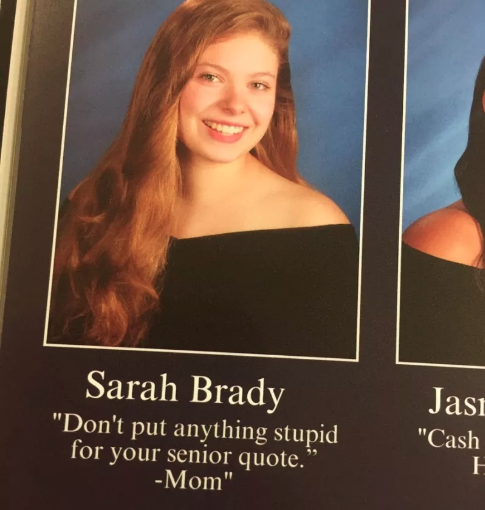 With graduation quickly approaching, we gave seniors the opportunity to encapsulate their high school experiences within a senior quote. Whether they chose something funny, inspirational, or anything else in between, we wish them luck as they start the next chapter of their lives!
Chase Ackerson: "Shoot for the stars and land on the moon; don't shoot for the moon and fail to take off." – Someone
Sophia Ali: "Why are you running?" – Vine
Matthew Alvero: "Duty, honor, country." – General Douglas MacArthur
Hannah Anderson: "Sometimes you gotta work a little, so you can ball a lot." – Tom Haverford, Parks and Recreation
Tomas Baliutavicius: "No way this is on the test." – Self
Aneesh Balusu: "80 on my wrist, 100 on my wrist, 80 on my wrist, 100 on my wrist. D. Rose, D. Rose, D. Rose, D. Rose." – Lil Pump
Julia Baroni: "Without obsession, life is nothing." – John Waters
Andrew Benington: "There is no 'I' in collaboraton." – Ken M.
William Bradley: "The nine most terrifying words in the English language are: 'I'm from the government and I'm here to help.'" – Ronald Reagan
Michael Brose: "'You miss 100 percent of the shots you don't take.' – Wayne Gretzky." – Michael Scott, The Office
Reagan Brownell: "Toutes les grandes personnes ont d'abord été des enfants." – Antoine de Saint-Exupéry
Camey Calzolano: "You have to think anyway, so why not think big?" – Donald Trump
Lauren Cecchini: "I would agree with you, but then we'd both be wrong." – Russell Lynes
Katie Cernugel: "We have to remember what's important in life: friends, waffles, and work. Or waffles, friends, work. But work has to come third." – Leslie Knope, Parks and Recreation
Ava Chami: "Kiss my butt." – Andrea Soto
Julia Chatterjee: "Every time a S'well bottle hits the floor, a bird dies." – Self
Joy Chen: "Don't I live in history, and doesn't history live in me?" – Eula Biss
Alex Choi: "They say it don't be dat way when it really do." – Anonymous, probably Jesus
Daniel Chval: "You catch a lot of flies with honey, but you catch more honies bein' fly." – Unknown
Cami Comstock: "S07: E22 (17:40)." – The Office
Stephanie Dal Porto: "Good, better, best. Never let it rest 'til your good is better and your better is best." – Saint Jerome
Adam DeDobbelaere: "Truth is my goal, and controversy is my gym. I'll do 100 reps of controversy for a six-pack of truth." – Kanye West
Meghan DeJong: "You were born with the weakness to fall / you were born with the strength to rise." – Rupi Kaur
Shreya Dhananjaya: "This was nothing like High School Musical…" – Self
Everett Eck: "Absolutely, 100 percent, not guilty." – O.J. Simpson
Andrius Espinoza: "O." – Self
Duncan Ferguson: "Nobody exists on purpose, nobody belongs anywhere, everybody's gonna die. Come watch TV." – Morty Smith
Ashley Fu: "'With great power comes great responsibility.' A quote that'll never die, unlike Uncle Ben." – Spider-Man (2002) and Self
Michael Gachich: "Well, I'm going to college and have no idea what to do with my life, but at least I have John Wick." – Self
Jayne Gelman: "I'm the boss, Michael Scott. All y'all is just Phyllis." – Childish Gambino
Joel Guerra: "Never forget that Cleveland blew a 3-1 lead." – Self
Will Goebel: "Hey guys, you ready to let the dogs out?" – Alan Garner
Cameron Hamburg: "Walter, I love you, but sooner or later, you're going to have to face the fact that you're a moron." – The Dude, The Big Lebowski
Edison Hawkins: "A figure with curves always offers a lot of interesting angles." – Wesley Snipes
Alexandria Haynes: "I'm the mother hen of all my chickens." – Self
Esther E. Hirsch: "You'll never get a quote out of me!" – Anonymous
Sophia Horowicz: "If someone ever asks you to do something for them, do it really bad so you never have to do it again." – Paris Hilton
James Hsiao: "Tengo un maiz." – Un Republicano Pobre
Kaidi Hu: "Esketitttttt." – Aneesh Balusu
Maha Hussain: "I think Comic Sans always screams FUN." – Jerry/Larry/Terry/Gary, Parks and Recreation
Charlie Johns: "Yvan eht nioj." – Enoyreve
Samone Khalil: "Stop wasting your time looking for the key of happiness; the door is open and unlocked, just walk through it." – Self
Bilal Khokhar: "Gallia est omnis divisa in partes tres, quarum unam incolunt Belgae, aliam Aquitani, tertiam qui ipsorum lingua Celtae, nostra Galli appellantur." – Julius Caesar
Cassie Kruse: "Hard work and comfort never coexist." – Coach McCabe
Kiril Kuzmanovski: "O full of scorpions is my mind." – William Shakespeare
Megan Melia: "Have courage, and be kind." – Cinderella
Prescott Egan Miller: "I'm nice at ping pong." – Kanye West
Claire Mueller: "I wish there was a way to know you're in the good old days before you've actually left them." – Andy Bernard, The Office
Valentyn Mykulyn: "Dealing with backstabbers, there was one thing I learned. They're only powerful when you got your back turned." – Marshall Mathers III (Eminem)
Jacob Nunez: "And God said, 'Let there be light,' AND IT WAS LIT." – Self
Sean O'Connell: "Just because you're trash doesn't mean you can't accomplish great things. It's called garbage can, not garbage cannot." – Anonymous
Ndidi Ojiako: "One thing you learn when you've lived as long as I have – people aren't all good, and people aren't all bad. We move in and out of darkness and light all of our lives. Right now, I'm pleased to be in the light." – Neal Shusterman
Evan Ostrowski: "It's a character-builder to be a fan of the Chicago Cubs." – Eddie Vedder
Paulina Piekos: "The expected is just the beginning. The unexpected is what changes our lives." – Meredith Grey
Charlotte Priester: "Ladies do not start fights, but they can finish them." – Marie, The Aristocats
Suhaib Qasim: "Tengo una calabaza." – Un Otro Republicano Pobre
Maxwell Rahal: "What is today but yesterday's tomorrow?" – Mr. Krabs
Ramzi Rimawi: "Hi, welcome to Chili's." – Vine legend
Ryan Rodriguez: "I'm as free as a bird now." – Lynyrd Skynyrd
Israel Rosales: "Of course I dress well. I didn't spend all that time in the closet for nothing." – Unknown
Julia Sant: "Well that wasn't like High School Musical." – Julia Sant
Ana Snyder: "'Do you speak Mexican?' – First girl I met at Hinsdale Central. I'm Ecuadorian." – Self
Nicholas M. Speziale: "This is not one of my finer moments." – Self
Charlotte Sudduth: "If you ever speak to me in Spanish, please use the formal 'usted.'" – April Ludgate, Parks and Recreation
Jon Teoli: "The climate changes four times a year." – The Earth
Nausherwan Tirmizi: "My name has been mispronounced so much that even I have forgotten how to say it." – Narshuan Tiramisu
Nicholas Von Stein: "If the facts don't fit the theory, change the facts." – Albert Einstein
Nathalie Wight: "S04: E04 (34:57)." – The Office
Paige Wilder: "It is finished." – Jesus Christ
Yi Yuan: "If you never try, you will never know." – John Barrow
Leave a Comment