Student mows his way to success
Christian Schloegel, junior, always enjoyed mowing grass in his backyard but he wanted to take it to the next level. Schloegel's self-made landscaping business, CTI Services LLC, started small in April of 2013.
Now providing all-year-round landscaping services to clients in the Hinsdale and Clarendon Hills area, CTI services range from full-service maintenance to landscaping, including: mowing, fertilization, planting, trimming, mulch bed preparation, snow plow and more.
When first starting out, referral of family and friends and word of mouth was essential in helping Schloegel spread his business within the community.
Recently, he expanded his business with new marketing strategies, such as placing door hangers on homes in the area and creating a website that outlines what the company does and how to get in contact with them.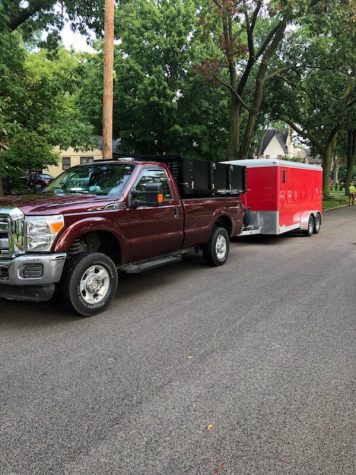 "Our door hangers were really big this year," Schoegel said. "We gained about 25 or 30 new weekly clients for mowing and we've done a lot of mulch work. In the spring, we were so busy after school because of the flyers and the timing, it was so effective."
Schloegel visits local businesses regularly to buy supplies and materials.
"We go to a distributor, depending on if it's bulk materials for mulch or dirt we go to Tamelings as well as Hinsdale Nursery," Schloegel said. "When [we] have a federal tax ID number and an employer identification number, we give it to them and get 50 percent off."
His business calls for long hours during the week and weekends. On a typical weekend in the spring and fall, employees usually work for about 30 hours between Friday and Sunday.
"It gets a little difficult at times, but mainly you've got to get a good sense of priorities, be good with time management, and not procrastinate school work," Schloegel said on how he balances work and school. "Some nights you have to be willing to go to bed late and get up really early. In the winter, I had to get up at 2 a.m. for snow removal."
About 75 percent of crew members who work for Scholegel are from Hinsdale Central. He strives to teach his members a good work ethic and sees safety as his first priority. He includes safety training for new crew members and requires safe work practices for each crew member.
In regards to his hiring process, most students contact him through text or in person. Schloegel notes that past experience is key when hiring.
"We would usually start them out on more basic jobs but then people who either have experience with their lawn or landscaping services will usually be paid more automatically," Schlogel said. "The pay is based off of experience, and if I'm getting a more consistent person I'm willing to pay for that."
Juniors Alex Knoll and Christian Thompson currently work for Schloegel's business.
"I did general landscaping, a lot of lawn mowing, picked a lot of weeds and did some work passing out flyers," Knoll said.
Thompson frequently helps with landscape and advertising for Schloegel and has learned how to be a part of a business.
"I regularly help him mow lawns, but occasionally I'll help him do mulch or snowplow in the winter or any other side jobs that he needs help on," Thompson said. "It opened me to harder jobs and working longer, but [it] also gave me a good understanding of money and how to save it properly."
You can reach Christian Schloegel for landscaping services and maintenance through his email [email protected] or call (630) 247-8737.
Leave a Comment
About the Contributor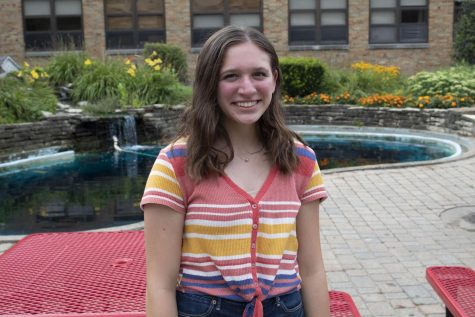 Natalia Berti, Section Editor
Natalia Berti is a senior who, when not chilling at a picturesque coffee shop or practicing her badminton footwork, enjoys re-watching the Avengers movies...