Student receives Brower Youth Award for environmental leadership
Junior Alex Collins, the co-founder of an organization called Students Against Ethylene Oxide (SAEtO), was one of six students chosen nationwide for the Brower Youth Award. The award recognizes students who make strides to help the environment while showcasing leadership skills in their communities.
The Brower Youth Award is granted by the Earth Island Insitute, a non-profit environmental organization that sponsors projects focusing on women's environmental leadership, sustainability, and community resilience. The institute awarded Collins with a virtual mentorship program and a $3,000 cash prize to help envision the future for SAEtO.
Two years ago, Alex Collins and her sister Catherine co-founded SAEtO after a facility called Sterigenics in Willowbrook revealed to the public that they were emitting approximately 4,600 pounds of ethylene oxide, a class one carcinogen in less than a three-mile radius from Central and a significant health concern. In the fall of 2019, SAEtO and allied community groups were able to secure the closure of Sterigenics.
"Ethylene oxide, from an environmental standpoint, is used in pesticides that kill plants," said Mr. Ludois, chemistry and environmental science teacher. "However, it is also a sterilizing agent for medical equipment, which Sterigenics was using in Willowbrook. The problem is that ethylene oxide kills DNA, increasing the risk of cancer."
Collins and her team have reached students nationwide to establish a ban on the carcinogen in their community.
"We do not have the option to go to a school in a different area," Collins said. "If our school is in an area with ethylene oxide emissions, our future health is put in danger."
As their initial mission of closing Sterigenics has been accomplished, the group has moved onto a new project. In the past four months, the organization has focused on a specialized initiative called The ETO-free Project, which aims to eliminate ethylene oxide from skincare. Collins and six other girls meet once a week to discuss a project that includes coding, researching, and reaching out to other companies who use ETO-free skincare products.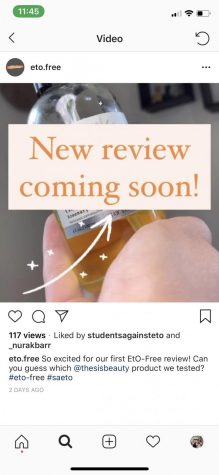 "[The ETO-free Project] has been a huge part of our organization because we really want to push for product transparency, especially among women and young girls who suffer from different skin conditions," Collins said. "Our research in ETO-free skincare products is important to us as a group."
The project's team leads include Collins, along with app developer Hunter Malinowski, research manager Amirah Mohiuddin, website manager Elyssa Chandler, social media manager Eliana Villone, and video coordinator Emily Hu. In order to bring a women-led initiative to the community, the team participates in various events to help the ETO-free project with research and technology.
"It has been a huge opportunity for us to take on that challenge being a group of all girls," Collins said. "We have gone to 'hackathons' as a group together to work on our project, and we have already had our first meeting this year with the SEAtO Chapter heads, which is super exciting."
As the video coordinator, Hu currently uploads all the organization's videos to YouTube to reach a wider audience.
"We will be producing more videos in the future that will be mainly focused on reviewing ETO-free skincare products from different brands," Hu said. "We are also thinking about producing reels and IGTV that would be released on our Instagram page."
The organization prospects that women nationwide will be mindful of using ETO-free skincare products by promoting different brands and testing their products. With the help of the Earth Island Institute, Collins creates global connections within the organization.
"We are starting a new chapter in Guatemala this year to reach an international level with our organization," Collins said.
If you are interested in supporting Collins and SAEtO, you can check out the Earth Island's 21st annual Brower Youth Award virtual ceremony, which honors the six youth leaders' accomplishments on Tuesday, Oct. 15. Collins is also the president of the school's ecology club and runs meetings and initiatives monthly via Zoom.
Leave a Comment
About the Contributor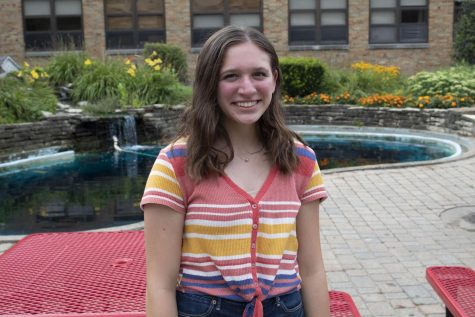 Natalia Berti, Section Editor
Natalia Berti is a senior who, when not chilling at a picturesque coffee shop or practicing her badminton footwork, enjoys re-watching the Avengers movies...