Best fall foods to satisfy cold weather cravings
As the seasons change, a variety of new foods come out and are a perfect fit for the colder weather. Many people enjoy new beverages during the cool weather, while others like making or buying fall-related food that they can enjoy.
Beverages from Starbucks: Starbucks adds new drinks to their menu every year, and during the fall time, they bring back some customer favorites. The most known is the Pumpkin Spice Latte (served hot or iced), which includes milk, espresso, nutmeg, and whipped cream. Another beverage is the Salted Caramel Mocha, which includes mocha sauce with toffee nut syrup, coffee, milk, sweet whip, and caramel drizzle with turbinado sugar. Dairy-based milks may be replaced with alternatives such as soy and almond for an extra charge.
"My favorite Starbucks drink has to be the White Chocolate Mocha Frap. You can taste every component of it, and it's very creamy and delicious," said Bilal Malas, senior.
Fall Treats: Some of the food Starbucks provides are mini but delicious snacks. For example, the Pumpkin Cream Cheese Muffin, has a mixed flavor of both salty and sweet. Another dessert is the Pumpkin Cheesecake Bar which is also a autumn-based treat. A snack you can buy from your local grocery store is the Pumpkin Ice Cream, along with apple or pumpkin pie. If you want to add more to it, you can top it off with a little vanilla ice cream on the side. Baker's Square can be one of the places you can get your pies from.
"My favorite is the Pumpkin Spice Latte, and I like donuts a lot because I love anything with pumpkin in it," said Julio Martinez, junior.
Fall Flavored Donuts: Many donuts that are in during this season are apple cider-flavored donuts along with the baked pumpkin donuts. If you really like pumpkin flavored donuts, the Pumpkin Spice Cake is a good option for you. Many of these donuts you can buy at a grocery store, but if you prefer the fresh ones, they are usually sold at farms during this time. A farm that is located in Indiana is the County Line Orchard, which sells these donut flavors. Other bakeries or coffee shops sell donuts as well.
"My favorite fall drink is the Chai tea latte because it gives me fall vibes and warms me up when it's cold outside," said Virginia LoPresti, junior. "I like the pumpkin donuts; I've tried the munchkins from Dunkin."
Leave a Comment
About the Contributor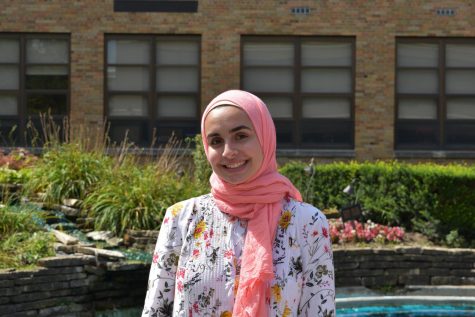 Masah Mourad, Section Editor



Masah Mourad is a senior that loves to eat fries. She enjoys many activities such as traveling, painting, and hanging out with her friends. When...