Author Samira Ahmed speaks to students on how she became a writer
On Wednesday, Nov. 13, Muslim-American author of young adult fiction, poetry and non-fiction Samira Ahmed spoke to students in the library during tenth period. Ahmed shared how she became a writer and how she went from having an idea to writing a book.
In addition to publishing poetry and essays, she has written two New York Times Best Seller books, "Love, Hate and Other Filters" and "Internment." Her third book, "Mad, Bad, and Dangerous to Know", is expected to be available in April of next year.
Ahmed's dystopian fiction novel released in March this year, "Internment", is set in the future and takes place after the election of an authoritarian president of the United States. He then begins to take away the civil rights of American citizens and incarcerates Muslim-Americans in internment camps.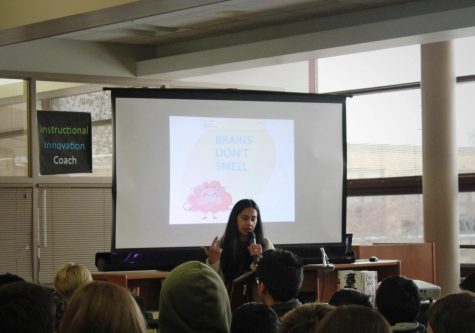 Ahmed began her talk by reading one of the very first pieces of writing she had published called "Brains Don't Smell", a personal essay based on her childhood memory of her mother cooking sheep brains.
"The thing about this story is that it reminds me how we can be so different from characters in stories that we read, yet there still is a connection," Ahmed said.
Writing is Ahmed's way of becoming a window towards people's voices who have been suppressed.
"Novels are the most subtle form of human inter-relatedness that we have created," Ahmed said. "I write stories to be mirrors for others. For too long the books in our world have not reflected the demographics of our world."
Ahmed taught English in a New York City public school before becoming a writer, but wrote poems and short stories in her free time. She related to students by comparing how an overwhelming long-term project or assignment is similar to the feeling she first had when she wrote a book.
"I remember thinking that sitting in front of a blank page on a computer and imagining writing 325 pages feeling like a big task that will take more than a couple hours," Ahmed said.
According to Ahmed, there is no exact formula when writing a book, poem or short story.
"I did what I used to do all the time in high school and in college and I broke the task into smaller pieces and figured out a way that was going to work for me," Ahmed said.
Juniors Alexi Kendle and Lijia Chen listened to Ahmed's talk during their English class and shared what resonated with them.
"Being a second-generation immigrant, I was able to relate to her story and it was really inspiring to hear how she became a writer," Chen said.
Especially for creative writing, Ahmed drew in on the importance of creating a backstory and connection to any character she writes about.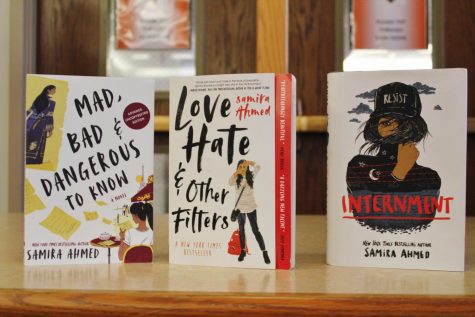 "I was inspired to connect with my inner character when writing," Kendle said.
Ahmed had no prior experience with writing books nor took any writing classes or workshops. Instead, she learned along the way with her first novel, "Love Hate and Other Filters."
"When people ask me that question, 'What are you going to be when you grow up?' I never answered author, novelist, writer, but I did like to write," Ahmed said. "I was writing a lot, not just for the essays that were assigned to me in school but in my journal [and] sometimes I would write short vignettes or pieces of fiction or narrative nonfiction or poetry."
Ahmed connected with students who are unsure of what careers to pursue in the future or what college to go to.
"I related to her when she said she did not know what she wanted to be when first starting out," Kendle said.
Both of Ahmed's novels "Love Hate and Other filters" and "Internment" can be found in the library.
Leave a Comment
About the Writer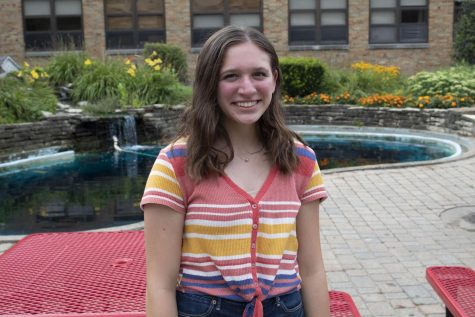 Natalia Berti, Section Editor
Natalia Berti is a senior who, when not chilling at a picturesque coffee shop or practicing her badminton footwork, enjoys re-watching the Avengers movies...