Speech team brings home first place in regionals and sectionals
On Sunday, Feb. 8, from 7 a.m. to 6 p.m. at Downers Grove South High School, Central's Forensics team participated in the IHSA regionals and received first place. Nearing the end of the season as they make their lasting impressions on the audience, forensic speakers will continue to practice their speeches, acting, and prose for the state competition on Feb. 22.
In total, there were seven regional champions including senior Emma Gordon who performed dramatic interpretation, junior Noor Mryan who performed original oratory, and juniors Haley Jonson and Ella Seiger who performed humorous acting. Senior Daniel Leung also performed humorous interpretation, while senior Aaron Lu performed impromptu and senior Catherine Dolan performed prose.
The team members spend many months practicing their speech-giving skills, especially focusing on how they can convey their message and emotions. As there is no set end date to the forensics' season, the members continue to practice until they feel confident in their speeches and performances.
"You always want to walk out of each room feeling like, you know what, if that's the last time I give this performance, I feel really good about it," said Mr. Paul Woods, speech coach and science teacher. "There's so much that we can't control so we try to focus on what we can which is connecting with an audience."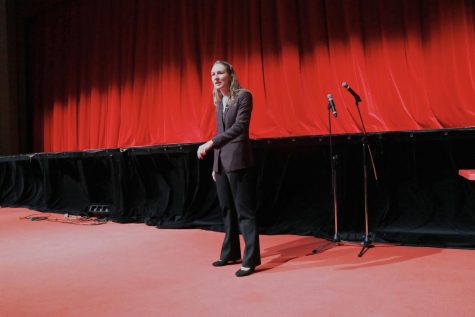 Ava Serverts, senior, competed in extemporaneous speaking in regionals. For extemporaneous speaking, the participant speaks about current events. In regards to guidelines, they receive a prompt half an hour before to research the question and create their speech. After the 30 minutes is over, the speaker must then perform the speech.
"There are a lot of people who are really dedicated to acting or who like public speaking or other things they get really passionate about, so a part of it [the speech team] is just being around the people," Serverts said.
Although many participate in their own individual events, there is still an aspect of teamwork.
"There is a competitive aspect but we really like to support each other," Serverts said.
On Friday, Feb. 14, Central students had the opportunity to watch the speech team perform their events in the forensics showcase throughout the day during their English class. Hosting the showcase the day before sectionals gave the speech team an opportunity to perfect their performance for sectionals.
"[The forensics showcase] gives us an opportunity to share what we usually do at other high schools with our Hinsdale Central family, which is always really nice," Woods said. "It also serves for us as a competitive purpose in that it's right before sectionals which gives us the chance to really knock out some practices and see how these speeches, scenes play in front of a live audience."
Whether it be for college interviews or for English class, being on the speech team helps the performers connect with their audience and make an impact.
"There's something for everyone when it comes to speech, whether it be acting events or public speaking, and I think it's a great place to improve at whatever skill you're utilizing in your speeches," said Finn Van Horn, junior member of the speech team.
After winning first place as IHSA sectionals at Elk Grove High School on Saturday, Feb. 15, the speech team is headed for IHSA state finals at The Peoria Civic Center from Thursday, Feb. 19 to Saturday, Feb. 21.
Leave a Comment
About the Contributor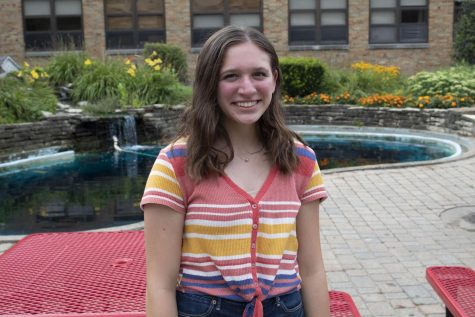 Natalia Berti, Section Editor
Natalia Berti is a senior who, when not chilling at a picturesque coffee shop or practicing her badminton footwork, enjoys re-watching the Avengers movies...