Restaurant business fluctuates wildly with public's reaction to pandemic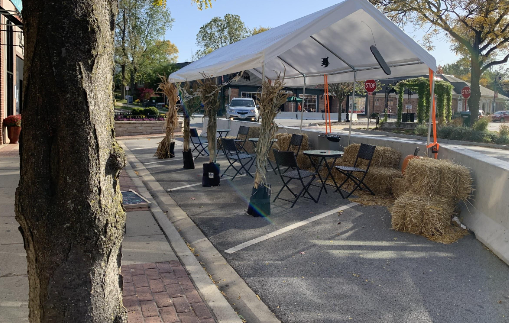 From the months between March and October of 2020, restaurants within the Clarendon Hills area have found that the amount of business they received has changed rapidly throughout the quarantine. This has largely been a result of public opinion and fear.
Initially, many local restaurants found themselves struggling, forced to shut down as a result of the announced quarantine. Daily restaurant business was down 54 percent when the quarantine went into effect. This could also be due to the fact that, as people were preparing for the pandemic, they started to focus their spending more on groceries.
"People decided that they really had no choice. They were cooking meals," said Kerri McClimen, the overseer of food brand communication for Perdue Premium Branch, a meat delivery company. "When COVID hit, restaurants were hit so severely. They couldn't open…[on] the other side, retail went crazy. They needed so much more [supplies]."
Many people started to turn more to home cooking. Throughout the early weeks of
quarantine, many families were strictly eating food at home, afraid or unable to order from
restaurants.
"In the beginning, I did a lot more home cooking," said Karen Dynis, a resident of Clarendon
Hills and a mother of three boys. "Then I got sick of it."
However, many people, after weeks of home cooking, turned to ordering. Restaurants began
to reopen, and they started to accommodate health guidelines and made outdoor seating
available. In restaurants that didn't have patios, they were forced to think outside the box, using
streets to set up outdoor seats for consumers. As a result, the public began to order from and
eat at restaurants much more frequently, in order to support local businesses.
"In the beginning, my mom was really hesitant to order from restaurants. However, during the
summer, we ended up ordering takeout quite a bit," said Mae Hamilton, a teenager and another
resident of Clarendon Hills. "We prefer to order from local businesses, just to support
them."
This represents a trend, as many people opened up to the idea of takeout as the quarantine
lengthened. Local restaurants began to advertise outdoor seating, and began to have their
workers wear masks. Many restaurants that didn't initially do takeout focused their efforts on
becoming more takeout-oriented. However, restaurants are still struggling.
"Twenty-five percent capacity is nothing," McClimen said. "Many restaurants have gone out of
business."
As the pandemic furthers and people become less frightened, it is quite likely that
businesses will continue to adjust their methods of serving the public. Two new restaurants are
set to open in Clarendon Hills in the future. With all that's going on, it can definitely be expected
that they will have takeout options available for consumers.
Leave a Comment