President Trump files lawsuits in response to election results
On Monday, Nov. 7,  former Vice President Joe Biden became the President-elect and President Donald Trump vowed to press onward with a series of legal battles, stirring allegations of voter fraud in acknowledgment of the news he received while he was at his Virginia golf club.
"Our campaign will start prosecuting our case in court to ensure election laws are fully upheld and the rightful winner is seated," Trump said.
In the past week, the Trump campaign has filed about a dozen new lawsuits in state and federal courts seeking to either "halt the vote-counting process or disqualify tranches of ballots." The Trump campaign's lawsuits were filed in states where Biden's margin of victory is relatively slim including Pennsylvania, Nevada, and Georgia.
Both the cases in Georgia and Michigan have been swiftly dismissed due to witnesses confirming that allegations of voter fraud are false or an utter lack of sufficient evidence to back the claims.
Trump's lawyers are leaving his side; multiple firms have now quit from the Trump campaign's effort to prove voter fraud.
Law firm Porter Wright Morris & Arthur LLP told a federal judge in Pennsylvania on Thursday, Nov. 12 that it would no longer represent the Trump campaign in this pursuit.
"Leftist mobs descended upon some of the lawyers representing the president's campaign and they buckled," said Tim Murtaugh, communications director of the firm, in a statement Friday morning. "The president's team is undeterred and will move forward with rock-solid attorneys to ensure free and fair elections for all Americans."
The Trump campaign did win one minor case in Pennsylvania, and they might get lucky and secure a few other small wins from among the many cases they have pushed across the country. But even if they achieve a few victories, it will likely not change the results.
"I like to think back to the election of 1800- the first peaceful transfer of power. Yes elections need to be legal, fair, etc but both sides need to acknowledge and accept the results of the election," said Ms. Sanskruti Patel, social studies teacher.
Amirah Mohiuddin, junior, said that Trump's reaction to losing the election shows how divided this country has become during his four years of presidency. 
"Half of America celebrated in the streets while the other half stormed to election booths and demanded the votes to stop being counted," Mohiuddin said. "Trump and his administration not admitting defeat and continuously stating that they are preparing for a second term are unconstitutional as they are defying the right of democracy. I think that what America needs right now is unity and I believe that Joe Biden will be the one to restore it." 
Leave a Comment
About the Contributor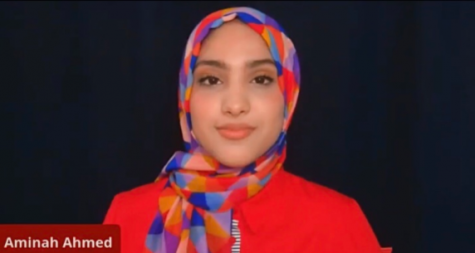 Aminah Ahmed, Writer
Aminah Ahmed, a junior is a young dynamic activist and public speaker. She is the host of the talk show NextGen on Apple TV, Roku TV, and Amazon Fire TV....