Scholastic Bowl competes in Discord tournament
On Thursday, Feb. 25, the Scholastic Bowl competed in an online organized tournament on the online platform Discord. Central had matches against Carbondale High School, the Illinois Math and Science Academy, and the Latin School of Chicago. 
"It was a good warm-up because we have the IHSA regional and sectional tournaments next week," said Mr. Alan McCloud, varsity Scholastic Bowl Ccach and science teacher. "We are pretty much ready to go." 
The tournament consisted of four matches, two of which the varsity team won.  
"This year tournaments and practices are all run online, so obviously the social aspect of games gets stunted, but we practice regularly and play in tournaments and conference meets often, so it's still been a fun season," said Allie Yang, senior. 
In the first half of the tournament, Central scored 15 points while the other teams were ahead by over 150 points. 
"Our tournament happened to overlap with badminton practice, so one of our senior players, Allie Yang, couldn't show up for the first half of the first match," said Alex Jin, senior. "Our team did pretty poorly because we were missing one of our strongest players."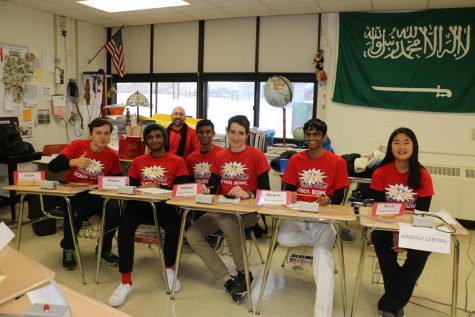 In the second half, Yang was able to join the team and helped to score approximately 200 points, but they were still behind in scoring. 
"I feel like it's really impressive that Allie made such an impact on the game," Jin said. "She gave us this sense of hope that we could win some more questions." 
Last year, all but one varsity player graduated. The team had to figure out how to cover the history, science, and fine arts categories. Seniors Amer Goel, Alex Jin, and Amogh Mantri mainly participate in the science and math matches while seniors Yang and Aryan Bahl focus on literature and the arts and all players compete in history. 
"You get to really work with a team," Jin said. "For example, if I don't know a lot about literature, someone on our team would have to cover. When the teams' synergy really starts to come together, it's a really nice feeling to contribute as a team and win as a team." 
Although the team held some in-person practices, there are many websites like Protobowl that simulate similar questions that team members could use when practicing. 
"There is definitely a defined question in each category," Jin said. "For example, in literature, there are around one-hundred books you need to memorize." 
Although matches are held in a different environment online, there has not been much change to the setup. Matches start when a moderator starts reading out questions and both teams have the opportunity to pause as the clues hint at the answer. If a team gets a question right, they get three bonus points that can be discussed within a team, whereas the previous question is individual-based.
"There's a lot of incentive to get the toss-ups early, which gives you a pretty big bonus with the extra points," Jin said. 
Scholastic Bowl gives students an opportunity to compete in topics that they are interested in. 
"I get to demonstrate my knowledge in the things I'm passionate about," Jin said. "I study a lot of math in my free time. It feels really nice when I can show off what I know by buzzing in really early on a math question." 
For more information about the ISHA regional and sectional tournaments, you can visit this website.
Leave a Comment
About the Writer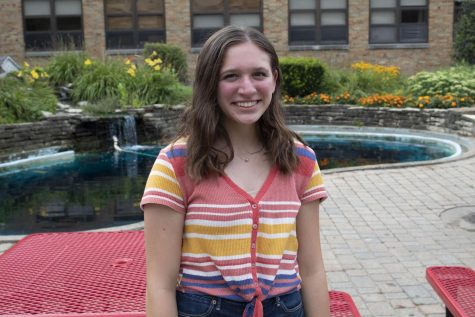 Natalia Berti, Section Editor
Natalia Berti is a senior who, when not chilling at a picturesque coffee shop or practicing her badminton footwork, enjoys re-watching the Avengers movies...