Conflicts flare over status of Kashmir
In August 2019, India's Hindu nationalist government abrogated Article 370 of the constitution, which had given exclusive citizenship rights to the residents of Kashmir.
Kashmir, a Muslim-majority Himalayan region, is held by India and Pakistan in parts and claimed by both in full. A small part of Kashmir is also held by China. Since they were partitioned in 1947, Pakistan and India have fought three wars, two of them over Kashmir.
The two countries issued a joint statement last week saying both sides have agreed to stop firing along their disputed border in Kashmir. This is the first cease-fire in nearly 20 years.
"Since the territory of Kashmir is wedged between Pakistan, China, and India this has caused a lot of civil unrest between the nations. Kashmir should be established as its own and forces in India and Pakistan should stop trying to take control over the land," said Emaan Khan, junior.
According to human rights watch, attacks in Kashmir have resulted in more than 50,000 deaths since 1989.
After the Indian government revoked Article 370 and other related provisions from its constitution, Jammu and Kashmir were also split into two federally administered territories.
Thousands of Kashmiris were arrested and detained, including journalists, activists, and politicians. A 213-day Internet blackout was imposed along with movement restrictions, and high-speed internet was restored only less than a month ago, ending one of the longest spells of Internet shutdown in the world.
Historian and political analyst Siddiq Wahid said that Kashmiris fear serious repercussions if they raise their voice against New Delhi.
"After the August 2019 move, authorities increased the military presence in what was already considered the world's most militarized region. I think this is one of the reasons behind a relative silence in Kashmir," Wahid said.
New laws passed by the Indian government allow any individual not local to Jammu and Kashmir to buy land and property there, as well as apply for jobs in a region that suffers from high unemployment and economic stagnation.
The blackout period exacerbated the economic strain of the COVID-19 lockdown causing damage of around $2.4 billion by the end of 2019, according to the region's main trade organization. In 2020, the Kashmiri economy has lost a further $5.3 billion.
Ibrahim Ahmed, freshman describes how the reports and eye-witness accounts of what is happening in Kashmir is devastating.
"What is happening in Kashmir is unjust and innocents are dying at the hands of those that are supposed to protect them," Ahmed said. "Kashmiris have the right to self determination promised to them back in 1949, when the UN had made a consignment to the realization of the right to self-determination of the Kashmiri people through a free and impartial election."
If you are interested in helping the Kashmiris, click here.
Leave a Comment
About the Contributor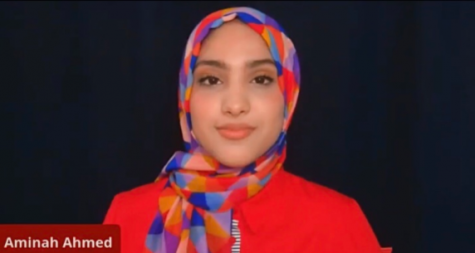 Aminah Ahmed, Writer
Aminah Ahmed, a junior is a young dynamic activist and public speaker. She is the host of the talk show NextGen on Apple TV, Roku TV, and Amazon Fire TV....