India's COVID-19 crises
India's total COVID-19 cases crossed twenty-four million as the world's second-most populous country continues to fight a disastrous second wave of the virus.
Data released Friday showed 343,144 new reported cases in a single day. It was the third day where the reported death toll was 4,000 or higher.
Tens of thousands of Indians have died across the country as healthcare systems have run out of basic supplies.
Many prominent Indian politicians and activists have blamed the death toll on the mishandling of the crises by the current Indian government and its Prime Minister Narendra Modi.
"If competence was his calling card, many people are calling that into question," political scientist Milan Vaishnav says. "It's not just that the government seems to be fumbling or absent, it's that they actively contributed to exacerbating the situation."
The government ordered Twitter to remove posts critical of its handling of the COVID-19 crises, angering many Indians.
A Twitter spokesperson confirmed to NBC News that it partly complied with the government's request by withholding tweets in India only.
The government's order was aimed at posts that criticized Modi and his Hindu nationalist Bharatiya Janata Party (BJP) Twitter said on Lumen, a database that keeps track of government orders for online content.
"India will never forgive PM @narendramodi for underplaying the corona [COVID-19] situation in the country and letting so many people die due to mismanagement," a politician from the state of West Bengal, Moloy Ghatak, wrote on Twitter last week. "At a time when India is going through a health crisis, PM [Narenda Modi] chose to export millions of vaccines to other nations."
Modi has remained largely silent about the crisis while allowing religious festivals and election rallies attended by thousands to continue.
For the first time in the three-week crisis, Modi spoke publicly.
"In front of us is an invisible enemy and this enemy has many faces. Because of coronavirus, we have lost a lot of our loved ones," Modi said.
As countries around the world airlift oxygen, vaccines, and medical supplies to India, they are also closing their borders to it.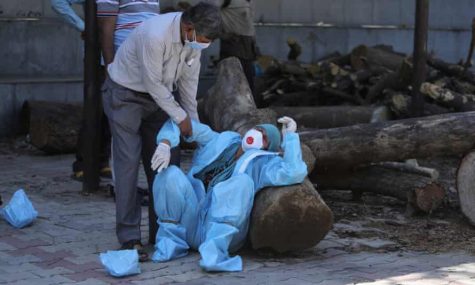 On Monday, May  10, the World Health Organization declared the B.1.617 variant of the virus, first detected in India and now found in 44 countries, a variant of "global concern." 
Maryam Naveed, junior whose family lives in Hyderabad, India said she is constantly worried about them.
"The current state in India is absolutely horrific. Bodies are being massively piled up and being dumped in the Ganges river, the cremation cost had tripled. The incompetence of Modi and his Hindu nationalist government is shown when they are allowing rallies and festivals at a time when the new COVID-19 variant is taking so many lives."
Leave a Comment
About the Contributor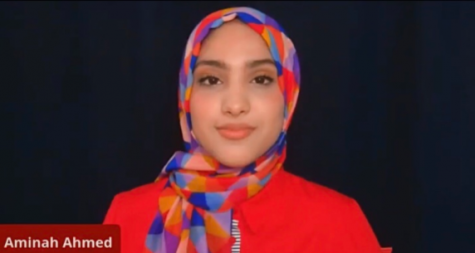 Aminah Ahmed, Writer
Aminah Ahmed, a junior is a young dynamic activist and public speaker. She is the host of the talk show NextGen on Apple TV, Roku TV, and Amazon Fire TV....