Meryl's bold move: celebrities and politics
On Jan. 8, at the 74th Annual Golden Globe Awards, Meryl Streep accepted the Cecil B. DeMille Award, an honorary award bestowed by the Hollywood Foreign Press Association for "outstanding contributions to the world of entertainment." In a memorable speech, she called out President-Elect Donald J. Trump for his statements regarding a disabled reporter while campaigning in 2015. She used the opportunity to call to attention the necessity of maintaining and defending a free press. Her bold statements set an example on how more celebrities should speak up in Hollywood for those of us that don't have a large enough platform to voice our concerns.
Streep was criticized for bringing politics into an award show recognizing notable achievements in Hollywood. Many regarded her speech as unnecessary and uncalled for, while others applauded her call to action, including myself.
"She is an elite liberal from Hollywood speaking to a room filled with other elite liberals from Hollywood, not really saying anything new," said Charlie Gelman, senior. "She didn't take any risks in her speech, which I don't find impressive at all."
Yet, these were her exact intentions. She emphasized the need for celebrities to use their public platform as a way of making a statement against something that is unjust.
"I was rooting for [Streep] because she was right about calling Trump out for his uncalled for actions," said Sasha Kuznetsov, senior. "It's up to you whether or not you would like to share your opinions toward the public at that level, and sometimes actors that do this can be obnoxious, but I thought Streep's speech was justified."
And many felt empowered by Streep's statements. Of course, it helps that she's an outstandingly accomplished woman in her career, as seen by her trophy case. She's long held support for the accomplishment of arts in the United States, as well as her backing of the ability to freely speak one's mind.
"Everyone has the right to be heard, no matter who they are," said Heidi Wittwer, senior. "I think her speech really reflected what a lot of people were thinking and these speeches need to be said to hold Trump accountable."
Her speech comes at a time of uncertainty. Lately, the press and forms of free speech have been under special scrutiny, partly fueled by Trump's ideas of "fake news", as well as the growth of both unreliable news sources and an extremely cautious audience. With more and more hate targeted towards these outlets comes the questioning of some of our most fundamental American values.
"Trump's actions were a misunderstanding, but Streep and the liberal media chose, and continue to choose, to ignore any evidence that goes against their ideas," Gelman said.
People don't like it when entertainment and politics collide. I, however, see it as a wake up call. If even the most scrutinized, spotlighted individuals of our democracy have the courage to call out our flaws, then we should applaud them. We should revel in their ability to express, freely, their opinions, whether it collides with yours, or not. And possibly try to listen, because speeches like these are valuable to hear.
Celebrities have the benefit of a public platform, an opportunity to voice something influential. If they can stand on a stage, express their political opinions, and call out for change, than we, as regular students, can too. The power of free speech is the most important tool in our lives. We shouldn't be crushing it.
Leave a Comment
About the Contributor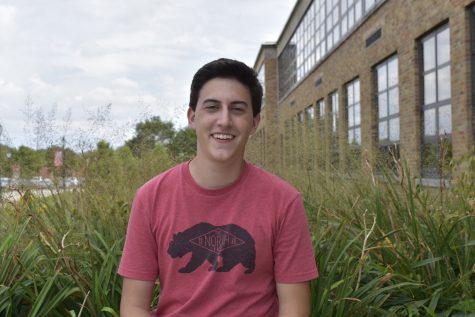 Zeljko Kospic, Writer
Zeljko Kospic, senior writer for Devils' Advocate, loves to write, socialize, and eat. He is a self-taught guitarist, with a passion for all music genres....