Review of the 2018 football season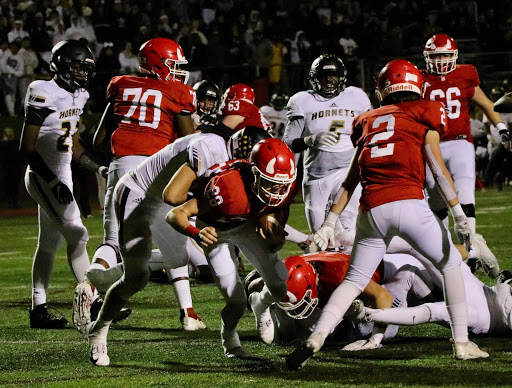 Looking back at the 2018 football season, the football team fought hard throughout its entire season.
The team battled fiercely as a unit from the opening kickoff of the season against Naperville Central until the final seconds of the playoff game against Warren.
The team won eight games, shared the conference crown, and won a playoff game.
Matt Rush, senior, was a great leader and as quarterback; he threw for over 1200 yards and had 21 touchdown passes on 84 completions out of 139 attempts.
"This was the most fun I've had playing football," Rush said. "We had great team chemistry and every day I went out there with the guys, it was a great day. We faced a lot of adversity and always found a way to bounce back, and it's a group of people I'll never forget."
Matt Bobak, senior running back, did an outstanding job at running back, filling in for an injured Luke Skokna, senior running back. Bobak ran for more than 1000 yards, at over five yards a carry, and 11 touchdowns.
Skokna was to be the offense's main focal point, but his season was cut short after the opening game against Naperville Central.
The offensive line consisting of Joe Monahan, senior guard and center, Roy Fuller, senior guard and tackle, Brendon Passarelli, senior tackle, Kiran Amegadjie, junior tackle, and Michael Dunphy, junior tackle, gave the quarterback plenty of cushion with every drive.
Braden Contreras, junior wide receiver, caught 11 touchdown passes and had over 600 yards receiving on the year.
Nick Franko, junior, rushed for 107 yards on six carries, while on defense, with 73 total tackles, one sack, and one interception.
Andrew Novataney, junior, returned the ball for the lone touchdown against Oak Park-River Forest and had a stellar defense with 32 total tackles and an interception.
"Despite this big change, I was easily able to adjust all thanks to my teammates and coaches," Contreras said. "They got me into the varsity football early and pushed me to work every day. This allowed me to compete with anyone on the field and succeed. If it wasn't for them I wouldn't have been ready for that first game and would have to do that on my own."
Contributing to the extra points on the board, Zach Drescher, senior kicker, made 33 field goal completions out of 34 for 957 yards, giving Central many extra points against their opponents.
Also, the entire defense came to play every game. They played with passion, enthusiasm, and a swarming defense.
Aidan Cruickshank, senior linebacker, led the team with 85 total tackles and an interception against Lyons Township.
Jack McCarty, senior defensive back, had 72 tackles and two sacks, followed with Sean Kelly, senior middle linebacker and defensive end, who made 51 tackles and two sacks.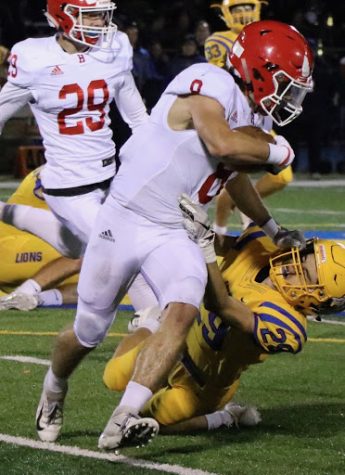 Vincent Zelisko, senior middle linebacker, had 42 tackles and one interception, and Hayden Waters, senior defensive tackle, had 20 total tackles.
Guy Henry Goss, junior, had 53 tackles and two interceptions against Conant and his brother Owen Goss, junior, made 25 tackles and had two interceptions. Also, Lucas Swartz, junior defensive end, had 15 tackles, three sacks, and one interception.
At the end of a long season for the Red Devils, the seniors will be missed and the underclassmen must continue the legacy and the tradition.
"I want to live in the moment and have no regrets because I only have so much time to play football as a Red Devil and I want to spare it for as long as I can because it's an amazing thing and one day it'll all be gone," Contreras said. "For my senior season, I will take everything in and play every second of the game."
The 2018 season will be remembered well and treasured. Go Red Devils.
Leave a Comment
About the Contributor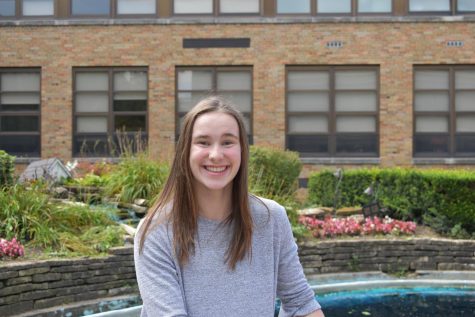 Rachel Wagner, Writer
Rachel Wagner is a junior writer for the Devil's Advocate. When she's not covering stories she can be seen at home drawing, writing, rewatching episodes...