Climate change debate heats up
When 16-year-old Greta Thunberg addressed legislators and politicians from around the world at the United Nations Climate Action Summit in New York City on Sept. 23, she added fire to the already contentious debate on climate change.
Thunberg accused global leaders of ignoring the climate crisis and criticized their efforts toward alleviating the effects of climate change as ineffective and superficial. Her comments were met with much support, but also much backlash from those who oppose her beliefs. Some high-profile politicians have warned against her ideas, such as Russian President Vladimir Putin, French President Emmanuel Macron, and U.S. President Donald Trump.
Thunberg repeatedly encouraged citizens of all nations to actively campaign for more environmentally friendly policies to be adopted by lawmakers. She also urged students to actively engage in the climate change debate by participating in a series of school strikes for the protection of the environment.
"[The strike] involved thousands of people, mostly young people," said Ellie Mather, senior and participant in the Chicago climate strike. "It was a great atmosphere of unity." Chicago's walk happened downtown near Grant Park on Sept. 20.
Scientists attribute potentially disastrous changes to the environment as a result of the emission of carbon dioxide from industrialization and the burning of fossil fuels, deforestation, the destruction of natural resources, among others.
The effects of climate change can dramatically alter, and possibly destroy, the world we live in. According to the National Aeronautics and Space Administration (NASA), the rapid transformation of the natural environment can diminish the ice supply, raise sea levels, create heat waves, produce stronger, more devastating storms, and possibly destroy ecosystems.
The ominous effects of climate change mobilized various environmental groups and regular citizens to propose new solutions to mitigate the effects of climate change. Suggestions include imposing a tax on carbon emitters, switching to nuclear and/or solar energy, enforcing a cap-and-trade program to deter the release of carbon into the atmosphere, switching to electric cars, using renewable energy, reducing tropical deforestation, and many others.
Many believe that efforts toward saving our planet must be enforced from the bottom-up, with regular citizens urging their politicians to create environmentally friendly laws.
"Changes can be made, but they require more than the individual," said Alan McCloud, earth science teacher. "Political inertia is important to overcome the status quo, and there has to be [an] investment at a large scale."
Change can start with anyone, and students at Central proved this with the creation of the Ecology Club for young environmentalists or students who just want to make a difference. The Ecology Club helps spread awareness to go green and works on supporting fundraisers and projects to help the environment.
Club members take an active approach in encouraging others to make small changes in their daily routines that can positively affect the environment. They also make changes in their own lifestyles to set positive examples, similar to Thunberg.
"I stopped eating cow and pig to reduce carbon dioxide emissions from animal agriculture," said Gianna Dugan, junior and member of the Ecology Club. "Meatless Mondays, reusable water bottles, electric cars, and choosing to walk are also good ways to help the environment."
Although it is unlikely that climate change will be fully resolved, scientists, experts, and supporters of climate protection say that it is not too late to make conscious decisions that can drastically alleviate some of its effects.
"Personal choices are important—purchasing sustainable clothes, ordering online goods to be delivered one day a week to save transportation costs—they can be a step in the right direction," McCloud said.
Thunberg and her supporters continue to urge all people to take action, most notably through her climate strikes held every Friday until Sweden decreases its emission of carbon. She also plans to visit Canada and Mexico in the next couple of weeks and will speak at another UN conference in Chile in December.
If you are interested in getting involved with the environmental movement advocated by Thunberg, you can visit https://globalclimatestrike.net/next/.
Leave a Comment
About the Writer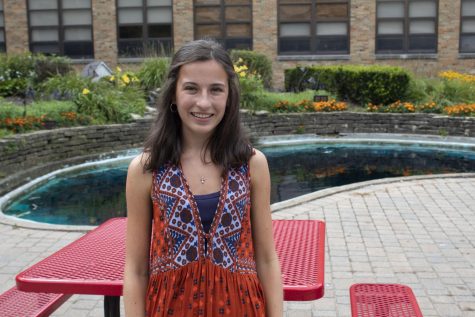 Olivia Ostrowski, Editor-In-Chief
Olivia, a senior, is excited to be apart of the Devils' Advocate team. She loves playing tennis and lacrosse, and competes in these sports at Central....