History's largest protest led by farmers erupts in India
On Tuesday, Jan. 26, thousands of Indian farmers flooded into Delhi, the nation's capital, clashing with police and storming the capital's historic Red Fort, as Indian Prime Minister Narendra Modi sat at the country's Republic Day parade not far away.* At least 67 people have died in the farmers' protests, which have been ongoing for nearly three months in opposition to a set of new farm laws deemed harmful by the farming community.
Over 250 million farmers and allies are demanding in what is now considered the largest protest in human history that Prime Minister Modi repeal recent farming laws that would reduce the government's role in agriculture and clear space for private investors. The government says the new laws will benefit farmers and private investment, bringing growth and promoting free markets. 
But if this is indeed true, then should not the Indian government consult the farmers at the time of publishing these new laws or at the time they were pushing these bills through the Parliament? If the Indian government is shamelessly claiming now that these laws are only for the prosperity of the farmers, then should they not have consulted even one farmer in the very laws that are supposed to empower them?
"Whether the government likes it or not, we'll keep protesting until they take back the laws," said a protesting Indian farmer.
Farmers fear that the removal of state protections they already consider insufficient will leave them at the mercy of corporate greed, ravage their livelihoods, and create an opportunity for large, private companies to enter and exploit the entire agriculture sector.
More than 60% of India's 1.3 billion people still depend primarily on agriculture for their livelihood, though the sector accounts for only about 15% of the country's economic output. Their reliance has only increased after the coronavirus pandemic badly struck the urban economy and sent millions of laborers back to their villages. For years, debts and bankruptcies have been driving farmers to high rates of suicide.
Nazia Kamal, junior, explains that her entire family originates from India and as a result, Indian political and social issues are constantly in circulation in her household. 
"The farmer's protest has been a longstanding fight in India for the repeal of three parliamentary acts that have places crushing debt on Indian farmers and increased suicide rates among the group exponentially," Kamal said. "I believe that the government is completely at fault for this, should immediately repeal the three acts and support Indian farmers, rather than ostracizing them and treating them as worthless objects. These protests are preserving the democratic principles of India."
As a result of the months-long protests, India's Supreme Court suspended the implementation of the controversial agricultural but for India's farmers, the Supreme Court move doesn't go far enough. They are demanding a full repeal of the new farm laws.
Modi's government initially sought to discredit the Sikh farmers by marking their concerns to be motivated by religious nationalism. Some leaders in Modi's party called them "Khalistanis," a reference to a movement for an independent Sikh homeland called "Khalistan" in the late 1980s and early 1990s.
Under Modi, India has seen a rising tide of Hindu nationalism and further oppression of minority groups, mostly Muslims. Mob lynchings, the building of detention centers, and stripping of citizenship have caused India to be labeled as a Country of Particular Concern. Some leaders from Modi's party and Indian media channels, which have long favored the government's Hindu nationalistic policies, have labeled the farmers "anti-national," a label is often given to those who criticize Modi or his policies.
The farmer's protests have gained attention from celebrities internationally including Rihanna and Greta Thunberg.
The laws directly impact the farmers in India, but they could also have a significant impact on consumers globally, who rely on India for many key items such as turmeric, chili, and ginger. 
If interested, you can support Indian farmers here.
*Aminah Ahmed has been an active participant and advocate for the Farmer's protests.
Leave a Comment
About the Contributor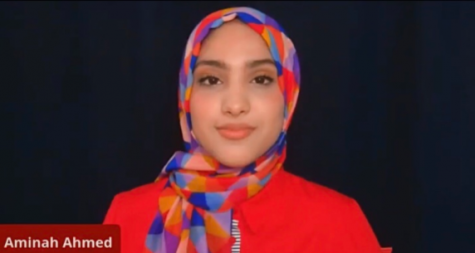 Aminah Ahmed, Writer
Aminah Ahmed, a junior is a young dynamic activist and public speaker. She is the host of the talk show NextGen on Apple TV, Roku TV, and Amazon Fire TV....