Boys Swim and Dive takes seventh at State
On Friday, Feb. 22 and Saturday, Feb. 23 the Red Devils boys swim and dive team competed in the state meet at New Trier High School. The boys placed seventh overall.
Friday's meet was the preliminaries to see what top twelve places could qualify for the finals on Saturday.
Seniors Donovan Lahmann, Kareem Bitar, Cade Griffith, and Junior Cullen Cochlan placed sixth in the state in the 400-yard freestyle. Trystan Lundgren, senior, placed sixth in the 100-yard breaststroke. Lahmann placed second in the 50-yard freestyle and also placed fourth in the 100-yard freestyle.
"The atmosphere is incredible. Fans are lined up from each school cheering making a super loud cheering section. Olympians have said this meet is the most intense atmosphere they've been at so it's pretty legit," said Eric Miscimarra, senior diver. "Before the state meet we always have a state dinner at someone's house where they cater a bunch of food. We talk about the game plan and all watch Division III: Footballs finest after dinner."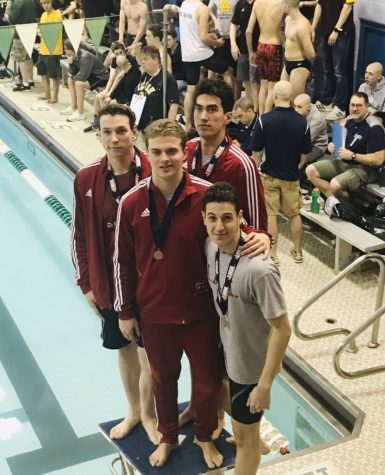 Friday began with diving where Miscimarra took fourteenth place out of 48 divers. He was able to finish eight dives. His first dive was a forward two and a half flips in the pike position.
"I am very proud about how we did as a team. We had many great individual swims and best times which is always a blast," said Donovan Lahmann, senior and swim captain. "I couldn't have dreamed of a better way to close out my high school career."
To prepare for the meet the boys don't swim as many laps, avoid doing a lot of workouts, and shave their legs and wear dome caps for this meet to help them go as fast as possible.
"State was very loud and serious at the beginning but as it went on we relaxed a little and just had a good time," said Alex Daw, junior swimmer. "To prepare to race I went to bed earlier and didn't have any sweets. I didn't do great at state, but I'm not mad about it since it was my third taper and I was mainly there just to experience what it's like for next year."
Though Friday's and Saturday's meet concluded the boys swim and dive season, Boy's Water Polo season has officially begun and their next game will be on Saturday, March 9 at Bradley-Bourbonnais High School.
Leave a Comment
About the Contributor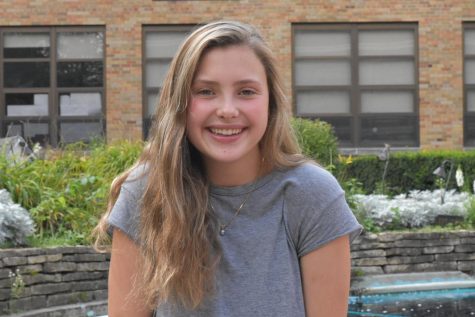 Leah Stevens, Section Editor
Leah Stevens is a senior who is constantly seen with a smile on her face and she loves to make people laugh. She lives by the motto "YOLO", and if you...