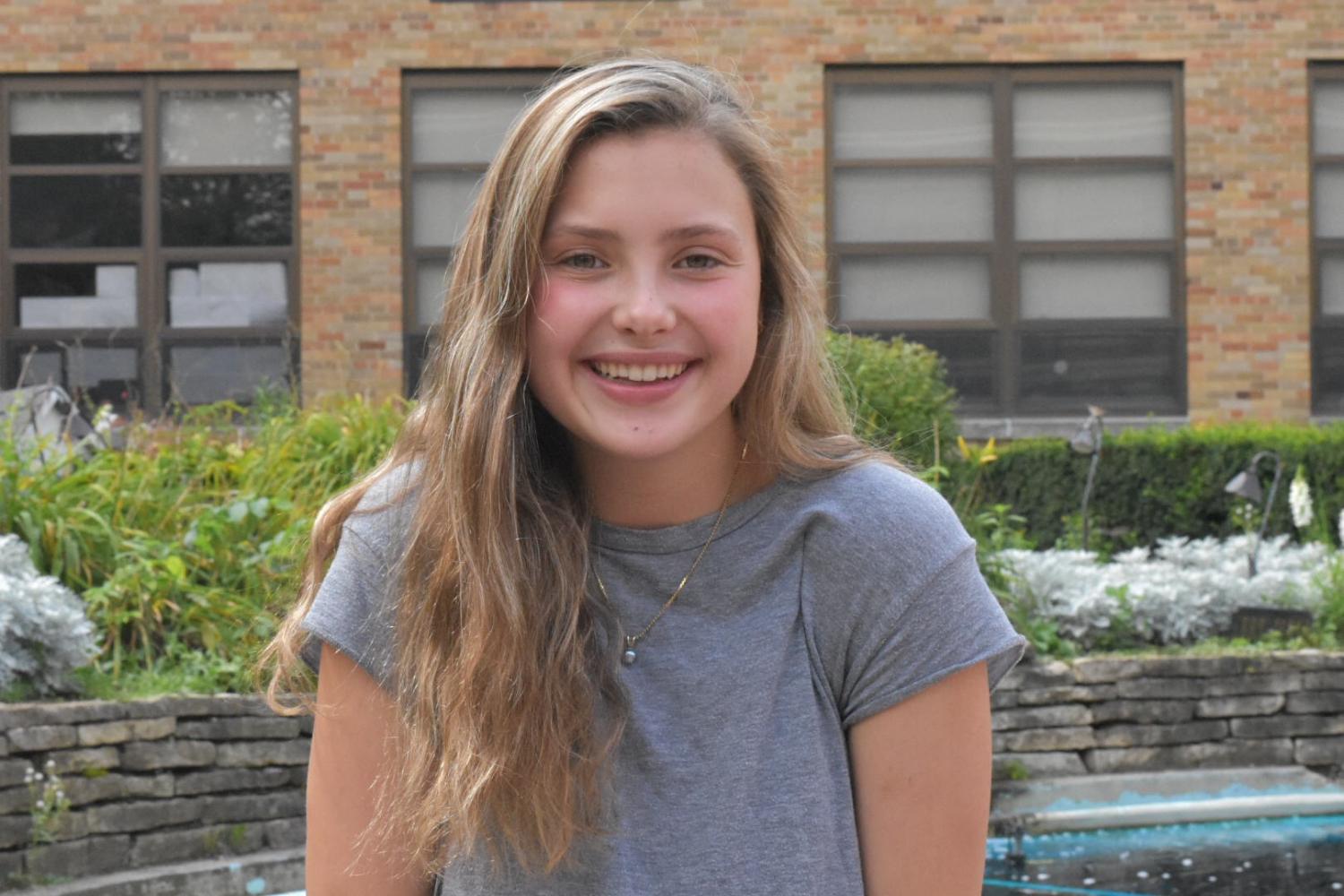 Leah Stevens is a senior who is constantly seen with a smile on her face and she loves to make people laugh. She lives by the motto "YOLO", and if you don't know where she is, check the pool because she's probably working on her dives. If she's not at the pool you can find her hanging out with her puppy named Cali or buying a mango at Mariano's. She loves manta rays, late night car rides with friends, "
Parks and Recreation"
, and stickers. You can reach Leah at 819635@hinsdale86.org.
Leah Stevens, Section Editor
May 09, 2019

Ecology Club receives honorable mention

(Story)

May 06, 2019

Girls Track and Field qualify for sectionals

(Story)

Apr 15, 2019

Girls lacrosse pulls out a win in double overtime

(Story)

Apr 05, 2019

Girls water polo faces off against LT

(Story)

Mar 12, 2019

Boys gymnastics takes third at LTHS invite

(Story)

Feb 26, 2019

Boys Swim and Dive takes seventh at State

(Story)

Feb 13, 2019

Girls track and field hosts the annual Red Devil meet

(Story)

Jan 30, 2019

Girls and boys basketball face OPRF

(Story)

Jan 24, 2019

2018's top 10's

(Story/Media)

Dec 13, 2018

Girls Gymnastics host senior night

(Story)

Nov 16, 2018

Winter Sports Preview

(Story)

Oct 30, 2018

October playlist

(Story/Media)

Oct 21, 2018

Girls Volleyball wins at the Volley for the Cure game

(Story)

Oct 09, 2018

Cross country places eleventh at twilight

(Story)

Sep 18, 2018

Varsity Football crushes DGN

(Story)

Sep 09, 2018

Girls Volleyball plays in first home game

(Story)

Aug 23, 2018

Back to School Bash kicks off school year

(Story)

May 23, 2018

Boys Tennis takes first at sectionals

(Story)

May 12, 2018

Girls soccer plays in their senior night game

(Story)

May 10, 2018

Girls Lacrosse wins senior night game

(Story)

May 07, 2018

Girls badminton wins sectionals

(Story)

Apr 26, 2018

Girls water polo falls short to Oak Park River Forest

(Story)

Apr 17, 2018

Boys varsity lacrosse team prepares to face LT

(Story)

Apr 11, 2018

Girls soccer team maintains winning streak

(Story)

Mar 21, 2018

Boys varsity track and field takes third at conference

(Story)

Mar 14, 2018

Girls lacrosse takes down Naperville North

(Story)

Mar 08, 2018

Boys gymnastics prepares to face LT

(Story)

Mar 02, 2018

Spring sports come into play

(Story)

Feb 22, 2018

Students make up the snow day

(Story)

Feb 15, 2018

Students perform at annual Winter Band Concert

(Story)

Feb 07, 2018

Girls varsity gymnastics takes third at Sectionals

(Story)

Jan 31, 2018

Boys bowling goes to State

(Story)

Jan 26, 2018

Boys wrestling takes down York

(Story)

Jan 18, 2018

Girls gymnastics defeats rival Lyons Township

(Story)

Dec 18, 2017

Students anticipate Vine's return

(Story)

Dec 07, 2017

Freshmen meet the pool

(Story/Media)

Nov 30, 2017

Girls gymnastics takes first at home meet

(Story)

Nov 28, 2017

Get to know the October Athletes of the Month

(Story)

Nov 07, 2017

DIY Pumpkin Spice Latte

(Story)

Oct 31, 2017

Cross country teams place top three at Sectionals

(Story)

Oct 25, 2017
Oct 23, 2017

Girls varsity tennis takes third at State

(Story)

Oct 16, 2017

Last minute Halloween costumes and crafts

(Story)

Oct 06, 2017

Girls golf takes first at regionals

(Story)

Sep 26, 2017

Boys cross country places third in Palatine Invite

(Story)

Sep 21, 2017

Boys soccer prepares to face LT

(Story)

Sep 17, 2017

Homecoming court skits faced with changes

(Story)

Sep 08, 2017

Teachers guess student slang

(Story)

Aug 31, 2017

Rugby Club kicks the bucket

(Story)