Running with the Devils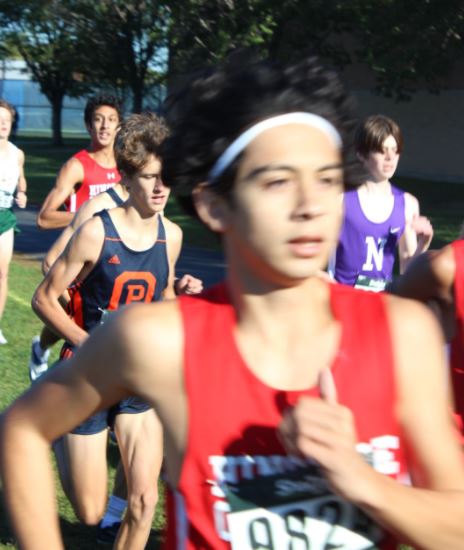 As the end of October approaches, the Red Devil varsity cross country team prepares to run the state sectionals. It's just one step of getting to the IHSA state finals. After winning the West Suburban Silver conference title on Oct. 21 for the first time since 2014, the men's team has reason for confidence in their performance.
"It's not about getting there first, it's about beating the person in front of you. Then beating the next guy," said Ian Miller, sophomore. 
Miller is in his first year of cross country. After participating in track and field his freshman year, he joined up at the beginning of this season. He noted that the sport is relatively unrestricted at events.
"It's not that restricted at all, now. We don't have to wear masks. We have our own area for the team, our 'sacred ground'," Miller said. 
Jim Westphal has been coaching for 16 years, longer than some of the runners have been alive. Westphal said this year feels most similar to a typical season. 
"[]Last year] we kind of had a season, no state meet. This season just feels like pre-COVID normal. We're not limited on the events and meets we could attend," Westphal said. 
This running season began on Aug. 26, at which point the country began to re-open. Since then, Westphal has seen solid performance and development from the team. 
"Varsity (has done) really well; our lower levels have been competitive. They've shown growth," Westphal said. 
October is a crucial month for the state-level competition. At the end of the month, it's time to qualify for the state-wide finals event. If there's any time of the season to be at your best, players say it's in that run-up period. 
"As much as it is physical, there's a lot of scaling back on training, and you back off at this point to recover," Westphal said. "There's also a lot of conversation about getting rest, eating well, and keeping up academically."
For junior Tyler Gonzalez, balance means some personal sacrifice throughout the season. Keeping up academically takes extra effort. 
"I've been staying up until 12 to get my work done, and even then I have some left over," Gonzalez said. 
But the mental stress doesn't stop once the runners hit the course. According to the runners, cross country taxes more than just the body. It takes a lot of mental toughness to keep fighting through physical exhaustion.
"It plays with your head. Throughout the race, you're thinking 'I'm so tired, I'm weak, I'm slower than these guys, I'll get them next time," Gonzalez said. 
So, with the season drawing to a close, the runners agree that it's more than just running a mile or two. The sport demands much but with many rewards. 
Leave a Comment