Chicago sandwich shop emerges as favorite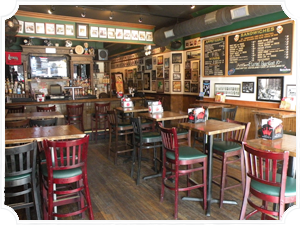 Living in the big city of Chicago can be stressful. The city is crowded, loud and full of life on every corner. And for students lucky enough to venture to the city, finding a place to eat may also be overwhelming.
Fortunately, Lucky's Sandwich Company provides an affordable outlet for those residing or visting in Wrigleyville. If you are looking for a place to grab a bite to eat before the Cubs take on the Cardinals, or a place to go out for a late night on the town, Lucky's Sandwich Company comes through for the attendee. The food is affordable with delectable flavors for everyone on the menu. There is a diverse amount of sandwiches as well as drinks.
Enjoy some of Lucky's appetizers, like their spectacular Homemade Chili or the remarkably cheap nachos. The nachos are painted with different amounts of toppings like sour cream, pico de gallo, guacamole and of course the chihuahua cheese. Lucky's speciality with appetizers is the wings. The wings can be purchased from 10 to 30 wings and they have different sauces to choose from. You can choose from OMG (The spiciest sauce), Cajun, Buffalo Hot, Asian Ginger, Honey Mustard, Old Bay, Hottyaki (Spicy Teriyaki), BBQ, Teriyaki, Chipotle BBQ, Mango Habanero and Garlic Parmigiana. With this much variety, you can choose plenty of options rather than just a few.
The rest of the appetizer menu includes Cheese Sticks, Chicken Tenders, French Fries, and three different Salads (House, Caesar and Southwest Chicken). Can't decide between the plethora of options for appetizer? Our recommendation is the wings with the Chipotle BBQ sauce or the nachos.
Lucky's Sandwich Company's specialty is its wide variety of sandwiches. With 20 different sandwiches there is a fit for every type of picky eater. From the veggie and cheese sandwich to a classic cheeseburger. The sandwiches are loaded with all the toppings you want from cheeses to french fries. The Blue Demon is a mouth-watering sandwich with buffalo chicken, blue cheese, and bacon creating an outstanding taste. We recommend the Blue Demon or the Not So Little Italy, a sandwich topped with Italian sausage, salami, capicola, hot peppers and provolone cheese. One of the most enticing features at Lucky's is the Lucky's Challenge.
"It is a challenge where you have to eat three loaded sandwiches, with nothing left on the plate. Only 11 customers have done this," said John Donnelly, the owner and founder of Lucky's. He was born in Pittsburgh, PA and got the idea of Lucky's from his hometown.
"It was always my dream to open a restaurant, and in Pittsburgh there were always small sandwich shops that loaded up the sandwiches, so I wanted to bring that to Chicago where I found an open building spot. I wanted to name it after something that will bring in Cubs fans, so I named it Lucky for Charlie Weeghman [whose nickname was Lucky] who once owned a part of the Chicago Cubs and had the idea to build Wrigley Field," Donnelly said.
One of Donnelly's favorite menu items is ironically not on the menu.
"I really like the Americana [which includes roast beef, turkey, ham, bacon, and more] but I order my own custom sandwich that is not on the menu. It has turkey, buffalo chicken, Swiss cheese, American cheese, tomatoes, a little bit of mayonnaise, and lettuce," Donnelly said.
One customer who goes to Lucky's often is Brooke Secola, a sophomore at Hinsdale Central.
"Its right by Wrigley [Field]. My family are big Cubs fans and it is tradition to go there after the game. The sandwiches are amazing and it feels like Pittsburgh, my family is from there," Secola said.
We give Lucky's a 4 out of 5 pitchforks and recommend this place for Cubs and sandwich fans. Lucky's Sandwich Company is a great, Pittsburgh style sandwich shop that provides a plethora of options for anyone looking for something delicious but affordable downtown.
Leave a Comment