Fine dining at Vistro
Vistro, opened in 2014, is a fine American diner located in downtown Hinsdale that offers a wide variety of salad, soup, and steak.
I dined at Vistro around 8 p.m. on a Monday night, and it was surprisingly packed with only around four tables unoccupied. The host was very friendly and led my friends and I to a cozy, candle-lit booth.
The menu consisted of mostly soups and salads along with a few entrees to choose from. For an appetizer, I ordered a cup of the cheddar broccoli soup. The soup was creamy and had a rich buttery taste. The ratio of broccoli to cheddar was well-balanced and tasty.
As an entree, I ordered the dry aged steak with a side of chopped salad instead of house-cut fries. Although the portion was a little smaller than other restaurants, the sizing being about a deck of cards, it was one of the best steaks I've ever tasted, rich in a salty, honey-mustard flavor and sizzling in juice all around. As for the chopped salad with lemon vinaigrette, it was bursting with flavors in every bite. The steak is also available in a griddled burger with a side of house-cut fries.
For a healthier option, my friend ordered a veggie burger, but without the buns and a side of house salad. Even without the buns, my friend enjoyed her burger and said she would order it again.
Another one of my friends ordered the seasonal chopped salad with chicken. It came with green goddess dressing, which is simply avocado and sour cream. The meal was enjoyable and she described the salad as flavorful with plenty of surprises in each bite.
Aside from our favorite dishes, our waitress was eager to share her favorite meal with us.
"My favorite is the fried pork sandwich. It's pounded thin, then it's breaded and pan-fried and served in our house-made brioche bun as a sandwich. It's topped with garlic and dill mayo and then some freshly shaved raw onions, and on the side you get some of our house-cut fries," said Sonia Guzman, Vistro employee.
Vistro definitely overtopped my expectations. Everything was crystal-clean and the food was very luxurious. The atmosphere was warm and welcoming. I would definitely recommend this for a fancy hang-out or a candle-lit date.
Not only would I recommend it, but also fellow students.
"The food is really good, and the place is very pretty. They also gave me an adorable birthday dessert," said Chloe Barofsky, junior.
Vistro is located at 112 South Washington Street, Hinsdale, IL 60521.
Leave a Comment
About the Contributor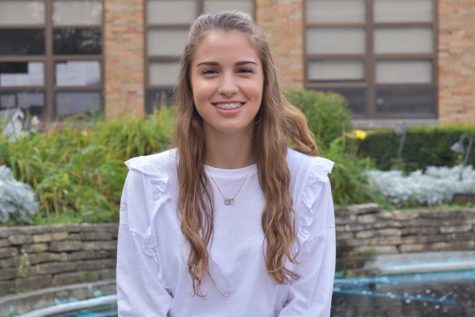 Samia Douedari, Section Editor
Samia Douedari is a senior who enjoys to write whether it's for a class or for fun. Along with being a part of the cross country and track team at Hinsdale...