A delectable diner
Located in Westmont, Citrus Diner is a breakfast and lunch restaurant with stand out food, service, and atmosphere.
With lots of sunlight and a bright aura, Citrus Diner already felt welcoming as soon as I walked in. I immediately noticed the joyful customers and smiling staff on a Saturday morning.
Usually most breakfast and lunch houses would be packed with slow service, but my friend and I only had to wait for 10 minutes around 11 a.m.
The menu ranged from a variety of omelets to burgers with no restriction as to what time you can order a lunch meal.
I ordered a skillet with steak, bell peppers, mushrooms, onions and Jack cheese. It was delicious served with two eggs made your way. The steak was juicy and the cheese was melted all over the dish. I would definitely order this again.
Aside from skillets and omelets, Citrus Diner's menu offers a simple breakfast with eggs made your way and bacon. My friend chose the scrambled eggs and bacon and appreciated how tasty it was without trying too hard. 
As well as breakfast, Citrus Diner offers a lunch menu served at any time of day. My friend ordered the Pavo Frio, which is a sandwich with smoked turkey, sliced tomato, lettuce, avocado with mayo and Dofino cheese on 9-grain whole wheat bread. With my friend being gluten-free, our waitress happily offered a substitution of gluten-free bread instead of the whole wheat free of charge. My friend really enjoyed her sandwich and said everything was fresh and crispy.
Along with great food, Citrus Diner stands out from other restaurants due to its glowing atmosphere with happy families and youthful teenagers.
"I love the people I work with and the customers. Honestly, I work with another restaurant on Ogden at night, [and] we have here the best customers on earth," said Vicky Corniacchia, waitress. 
Well loved by everyone, Citrus Diner also wins over the students.
"The service is really good and their chocolate chip pancakes are amazing," said Olivia O'Bryon, sophomore.
"The thing I like the most about Citrus Diner is their friendly waiters. I also love the natural lighting," said Amber Page, junior.
All in all, Citrus Diner is well recommended. Its relaxing atmosphere and delicious food makes it a great chill-out spot for any gathering. Citrus Diner is located at 844 E Ogden Ave in Westmont.
Leave a Comment
About the Contributor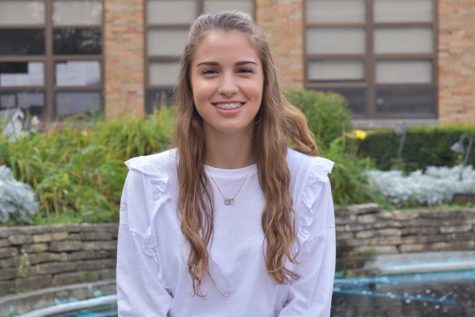 Samia Douedari, Section Editor
Samia Douedari is a senior who enjoys to write whether it's for a class or for fun. Along with being a part of the cross country and track team at Hinsdale...