Paradise only miles away
Ever need a short getaway with some fine food in the warm jungle? Don't waste money on a trip to Brazil, just go to Paradise Cafe, a breakfast and lunch diner located in downtown Downers Grove.
With the great atmosphere and food, I was shocked to have seen the diner half empty when I walked in on a Saturday morning. As you enter, the green and blue colors pop out with grand murals of the jungle, volcanoes, and animals all over the walls of the restaurant. This diner has a tropical theme, something different for a pancake house.
The host greeted us with a warm welcome and our waitress was energetic. After chatting with her, she made us a bowl of nacho soup for my friends and I, free of charge.
I couldn't decide on what skillet I should order, so I customized my own skillet with turkey sausage, onions, bell peppers, diced potatoes and melted mozzarella cheese. The skillet was flavorful and was the perfect size. It also came with a side of biscuits which were also tasty.
My friend ordered the California Omelette which included avocado, sautéed mushrooms, green onions, tomatoes, a touch of garlic, sour cream, Jack, cheddar and Swiss cheese. 
Another unique aspect of this pancake house was their salmon and eggs dish. For any seafood fans, this is your place. My friend was a little skeptical of their fish, but ended up enjoying the dish that consisted of grilled salmon on fresh spinach, Hollandaise sauce, two eggs and country potatoes.
Finally, if you're a sweet dish person, Paradise Cafe offers up to 40 different types of sweet pancakes, waffles and crepes. My friend ordered the Triple Berry Pancakes which included three large pancakes with fresh strawberries, blueberries and blackberries. 
Our waitress, Denise Cascio, also provided recommendations. 
"My favorite dish is the pumpkin cheese pancakes with extra cream cheese sauce. Delicious," Casico said.
All in all, my experience at Paradise Cafe was incredible. It's very doubtful that anyone would experience anything less than amazing over there. Kick your feet back and enjoy the jungle with friends or even a date for a great, inexpensive meal.
Paradise Cafe is located at 5130 Main St, Downers Grove, IL 60515.
Leave a Comment
About the Contributor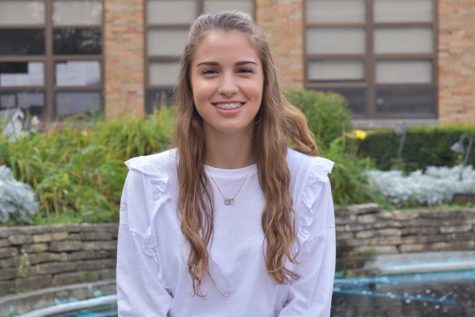 Samia Douedari, Section Editor
Samia Douedari is a senior who enjoys to write whether it's for a class or for fun. Along with being a part of the cross country and track team at Hinsdale...