Easy ho-ho-holiday recipes
With the holidays approaching, we all know food is a major key to gatherings with friends and family. Here's a simple guide to some tasty recipes this season:
Ingredients:
10 apples, quartered

3/4 cup white sugar

1 tablespoon ground cinnamon

1 tablespoon ground allspice
Directions:
Place apples in a large stockpot and add enough water cover by at least 2 inches. Stir in sugar, cinnamon and allspice. Bring to a boil. Boil, uncovered, for 1 hour. Cover pot, reduce heat, and simmer for 2 hours.

Strain apple mixture through a fine mesh sieve. Discard solids. Drain cider again through a cheesecloth lined sieve. Refrigerate until cold.
Ingredients:
4 cups milk

5 whole cloves

1/2 teaspoon vanilla extract

1 teaspoon ground cinnamon

12 egg yolks

1 1/2 cups sugar

2 1/2 cups light rum

4 cups light cream

2 teaspoons vanilla extract

1/2 teaspoon ground nutmeg
Directions:
Combine milk, cloves, 1/2 teaspoon vanilla and cinnamon in a saucepan, and heat over lowest setting for 5 minutes. Slowly bring milk mixture to a boil.

In a large bowl, combine egg yolks and sugar. Whisk together until fluffy. Whisk hot milk mixture slowly into the eggs. Pour mixture into saucepan. Cook over medium heat, stirring constantly for 3 minutes, or until thick. Do not allow mixture to boil. Strain to remove cloves, and let cool for about an hour.

Stir in rum, cream, 2 teaspoon vanilla and nutmeg. Refrigerate overnight before serving.
Ingredients:
4 pounds sweet potatoes, quartered

1 1/4 cups margarine

1 1/4 cups brown sugar

3 cups miniature marshmallows, divided

ground cinnamon to taste

ground nutmeg to taste
Directions:
Preheat oven to 400 degrees F (200 degrees C). Grease a 9×13 inch baking dish.

Bring a large pot of water to a boil. Add potatoes and boil until slightly underdone, about 15 minutes. Drain, cool and peel.

In a large saucepan over medium heat, combine margarine, brown sugar, 2 cups marshmallows, cinnamon and nutmeg. Cook, stirring occasionally, until marshmallows are melted.

Stir potatoes into marshmallow sauce. While stirring mash about half of the potatoes, and break the others into bite-sized chunks. Transfer to prepared dish.

Bake in preheated oven for 15 minutes. Remove from oven and cover top evenly with remaining marshmallows. Return to oven and bake until marshmallows are golden brown.
Ingredients:
1 egg

1 cup canned pumpkin

1/3 cup white sugar

1 teaspoon pumpkin pie spice

2 eggs

2/3 cup corn syrup

1/2 cup white sugar

3 tablespoons melted butter

1/2 teaspoon vanilla extract

1 cup pecan halves

1 recipe pastry for a 9 inch single crust pie
Directions:
Stir together one egg, pumpkin, 1/3 cup sugar and spice. Spread over bottom of pie shell.

Combine 2 eggs, corn syrup, 1/2 cup sugar, butter and vanilla. Stir in nuts. Spoon over pumpkin mixture.

Bake at 350 degrees F (175 degrees C) for 50 minutes until filling is set.
Ingredients:
1/8 cup chopped dried cherries

1/8 cup chopped dried mango

1/4 cup dried cranberries

1/4 cup dried currants

2 tablespoons chopped candied citron

1/4 cup dark rum

1/2 cup butter

1/4 cup packed brown sugar

1 egg

1/2 cup all-purpose flour

1/8 teaspoon baking soda

1/4 teaspoon salt

1/4 teaspoon ground cinnamon

1/4 cup unsulfured molasses

2 tablespoons milk
Directions:
Soak cherries, mango, cranberries, currants, and citron in 1/4 cup rum for at least 24 hours. Cover tightly, and store at room temperature.

Preheat oven to 325 degrees F (165 degrees C). Butter a 6×3-inch round pan or loaf pan and line it with parchment paper.

In a large bowl, cream together butter and brown sugar until fluffy. Beat in egg. Whisk together flour, baking soda, salt, and cinnamon; mix into butter and sugar in three batches, alternating with molasses and milk. Stir in soaked fruit and chopped nuts. Scrape batter into prepared pan.

Bake in preheated oven for 40 to 45 minutes. Cool in the pan for 10 minutes, then sprinkle with 2 tablespoons rum.

Cut out one piece parchment paper and one piece cheesecloth, each large enough to wrap around the cake. Moisten cheesecloth with 1 tablespoon rum. Arrange cheesecloth on top of parchment paper, and unmold cake onto it. Sprinkle top and sides of cake with remaining rum. Wrap the cheesecloth closely to the surface of the cake, then wrap with paper. Place in an airtight tin, and age for at least 10 weeks. If storing longer, douse with additional rum for every 10 weeks of storage.
Ingredients:
4 pounds golden creamer potatoes, peeled and cut into quarters

1 bay leaf

Kosher salt and freshly ground black pepper

2 cups heavy cream

3 tablespoons unsalted butter

2 tablespoons chopped chives
Directions:
Put the potatoes into a large pot, add the bay leaf, 2 tablespoons salt and cover with cold water. Bring to a boil over medium-high heat and cook until the potatoes are tender, about 20 minutes.

Drain them well and remove the bay leaf. Meanwhile, heat the cream and butter in a small saucepan. Put the potatoes through a ricer or food mill into a bowl.

Add the hot cream and season with salt and pepper. Mix together with a spoon and add the chives.
Ingredients:
1/2 cup vegetable oil

3/4 cup all-purpose flour

1 teaspoon salt

1 teaspoon ground black pepper

4 cups milk
Directions:
Heat the oil in a large skillet over medium heat. Whisk in the flour, salt and pepper until smooth. Cook and stir over medium heat until browned, about 10 minutes. Gradually stir in milk so that no lumps form, and continue cooking and stirring until thickened. If the gravy becomes too thick, you may thin it with a little more milk.
Ingredients:
3 3/4 cups all-purpose flour

1 teaspoon baking powder

1/2 teaspoon salt

1 cup margarine, softened

1 1/2 cups white sugar

2 eggs

2 teaspoons vanilla extract
Directions:
Sift flour, baking powder, and salt together, set aside. In a large bowl, cream together the margarine and sugar until light and fluffy. Beat in the eggs one at a time, then stir in the vanilla. Gradually blend in the sifted ingredients until fully absorbed. Cover dough, and chill for 2 hours.

Preheat oven to 400 degrees F (200 degrees C). Grease cookie sheets. On a clean floured surface, roll out small portions of chilled dough to 1/4 inch thickness. Cut out shapes using cookie cutters.

Bake 6 to 8 minutes in the preheated oven, or until edges are barely brown. Remove from cookie sheets to cool on wire racks.
I tried making the pumpkin pecan pie, and it was a lot easier than I expected. It tasted very sweet had a nice pumpkin taste, and the molasses made it extra rich. I added a little more cinnamon because I like a more cinnamon taste. It was very delicious and I would definitely make this, for my family also enjoyed it.
Further, I attempted the mashed potatoes and country gravy. I used yukon gold potatoes instead, so it gave off a more gold-looking appearance; however, it tasted just as amazing as any regular mashed potatoes. The country gravy was very delicious, it wasn't thin either, which made both of these taste even better together. It was very creamy and not too thick or not too thin. I would also recommend making this for any easy, quick side.
For more of our favorite recipes, check out Easy Thanksgiving recipes and 5 easy Thanksgiving recipes your family will love you for.
Leave a Comment
About the Contributor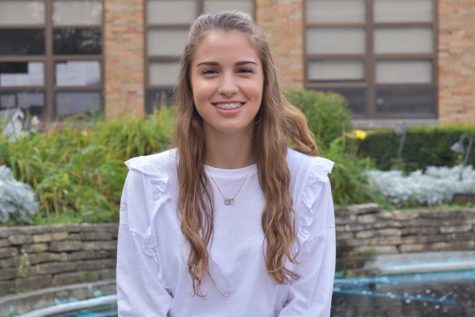 Samia Douedari, Section Editor
Samia Douedari is a senior who enjoys to write whether it's for a class or for fun. Along with being a part of the cross country and track team at Hinsdale...