Snowcoming dinner plan ideas
We all know that planning for a big dance is stressful, especially in a group with many people. However, with Snowcoming, the annual winter dance, approaching on Feb. 4, it's time to start making dinner plans to attend before the dance begins. Check out where people are going for dinner for some ideas for you and your group.
Carnivale is a restaurant in Chicago with lively decorations and food from South America, Spain and the Caribbean. Its Latin flair spices up the food, decor and vibe. Carnivale is located at 702 W. Fulton St., Chicago, Ill. 60661.
"We heard it's really fun and has good food. And the word 'Carnivale' sounds like you're going to a carnival, which is how it looks, too," said Lally Johnson, junior.
Carnivale's liveliness and uniqueness is definitely catching the eyes of many because there's more than one group going there.
"My mom told me about it, and I looked it up and it's huge with lots of colors and lights. It's definitely nothing like the restaurants around here. The food is supposed to have a lot of flavor, but I'm going for the experience," said Ava Chami, junior.
Check out this video of a live performance on a typical weekend.
Click here for Carnivale's menu.
Carmine's is another restaurant in Chicago, and it's a lively supper club known for its famous Italian dishes. Carmine's is located at 1043 N. Rush St., Chicago, Ill. 60611.
"Carmine's has amazing food and the service is superb. Carmine's never disappoints," said Tanya Rasha, senior.
If you're looking for an Italian restaurant with nice seating and heart portions of pasta and meat plates, Carmine's is the place for you. Click here for Carmine's menu.
Something more close by is Bakersfield. It's a nice restaurant famous for steak and seafood cooked in their wood-oven grill. Bakersfield is located at 330 E. Ogden Ave., Westmont, Ill. 60559.
"A lot of people go to Bakersfield, and I don't blame them. The food is amazing and the service is really fast," said Sophie Griffith, junior.
Click here for Bakersfield's menu.
Any simple restaurant nearby will do for Snowcoming, but these are some great suggestions from the fellows students.
Leave a Comment
About the Contributor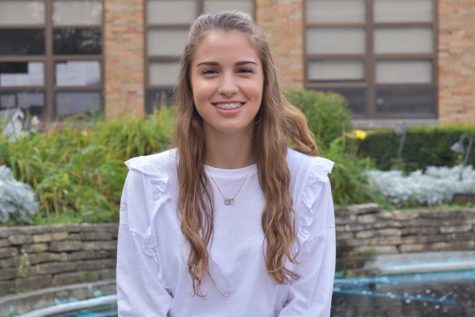 Samia Douedari, Section Editor
Samia Douedari is a senior who enjoys to write whether it's for a class or for fun. Along with being a part of the cross country and track team at Hinsdale...