Jellyfish a ying-yang of meals
Jellyfish, the second-floor restaurant on Rush Street in Gold Coast, is a favorite of students. With a black light and all white decor, diners experience a purple glow upon entrance. The menu consists of sushi and cooked Asian foods.
The restaurant opened in 2012 by restaurant expert Joseph De Vito and entrepreneur Josh Carl.
Jellyfish provides dining and bar seating with an enclosed atrium that overlooks Rush Street. Seating consists of white plush chairs with light wood finishing. Each table is detailed with a white orchid and the waiters wear a uniform of a white shirt and slacks. In the bar area, diners are able to sit at the bar or in small booth areas decorated with floral cut outs. Behind the bar, the wall has embellishments of crystallized sea shells that catch the black light to make them twinkle. The atmosphere is laid back, even during busy dinner and cocktail hours.
I visited Jellyfish with friends the evening of the Snowcoming dance. As a group, we decided that a night in the city could be a fun substitute for dancing in the gym and ice skating on the indoor ice rink.
"I love going to school dances, but spending the night with friends in the city seemed more appealing. I've been to a lot of dances and just wanted to switch it up," said Karly Berger, senior.
The four of us started off with chicken fried rice located on the "To Share" part of the menu. The fried rice exceeded my expectations. The dish consisted of bite-size chicken bits with a medley of vegetables. The chef did not add too much soy sauce, making the rice the desired amount of saltiness. I often find that chefs put too much sauce on their rice, making it too salty and spoiling the rest of your meal.
For my main course, I ordered the Kiss of Fire roll, a tuna and salmon mixture with jalapeño and lime sauce. The roll was wonderful. It was not too spicy and the fishes mixed well together. Also, there were enough pieces in the roll to satisfy your stomach.
At the end of the evening, my friends and I paid around $25 for a good meal. Jellyfish is also a short walk to Sprinkles Cupcakes for your evening dessert.
You can visit Jellyfish at 1009 N Rush St #2, Chicago, IL 60611.
Leave a Comment
About the Contributor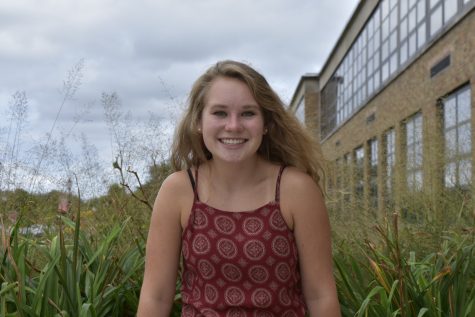 Becca Derezinski, Writer
Senior, Becca Derezinski, is always seen with a smile on her face. Becca is a horse enthusiast, constantly talking about anything horse related. If she...