Allegro coffee bar: The hidden gem inside local Whole Foods
Nestled inside of the busy Whole Foods store in Willowbrook, the Allegro coffee bar is a relaxing spot that offers beverages, gelato and pastries with a European flair.
My friend and I arrived on a late Saturday afternoon for coffee. We made our way through the busyness of the grocery store and reached the quieter, café-like space that's located just a few steps away from the cash registers.
I immediately noticed how different the atmosphere was from the rest of the store. It didn't feel like we were in a grocery store because it had the privacy and coziness of your everyday coffee shop setting. Looking around, there were three small wooden tables set up where customers conversed and the trendy urban-style brick pattern that surrounded the coffee bar set it apart from the rest of the store. There were a wide range of customers that were there from people working on their computers to employees enjoying some downtime on their breaks.
Ready to order, I decided to go with a classic vanilla latte while my friend went with a chai tea latte. I also decided to order a scoop of raspberry sorbet from the large glass-enclosed gelato bar. I noticed that larger containers were available in a separate freezer allowing customers to take home there favorite flavor.
The service was quick as it took just a few minutes until both drinks were complete. My friend and I chose a quiet space by the window to enjoy our drinks. I noticed that the vanilla latte had the perfect balance between the foam, rich coffee flavor and sweetness. It was also great when paired with the icy and refreshing sorbet.
My friend enjoyed her chai tea latte as well which consisted of milk, tea and other spices such as cinnamon.
"Nothing compares to their chai tea. I get it every time, it's my favorite," said Emerson Wilson, senior.
One thing that I found interesting was that most of the ingredients used to make the drinks can actually be purchased directly at Whole Foods. Chatting with the barista, I was curious to see what some of their bestsellers are. The menu heavily consists of traditional coffee shop staples such as flavored coffees, teas, as well as some iced options, but there are also some other unique specials that are featured.
"One of our bestsellers, especially this past holiday season was the brown sugar cortado," said Laura Angler, barista. This popular drink is a latte that involves cream, expresso along with a brown sugar finish.
"What's interesting is that we have actually sold the most in this region," Angler said.
Throughout the suburbs, there are many well-known chains that people rely on for their coffee fix such as Starbucks and Dunkin Donuts. However, paying a visit to the Allegro coffee bar in the local Whole Foods might just add another one onto your list of favorites.
"It's very convenient," said Michelle Langdon, customer. "Sometimes I pick up lunch before work and get my coffee at the same time."
You can find the Allegro coffee bar inside of Whole Foods at 6300 S Robert Kingery Hwy, Willowbrook, Ill. 60527.
Leave a Comment
About the Contributor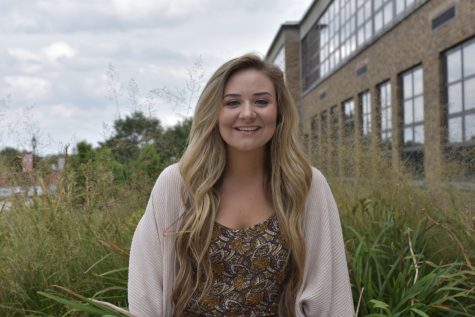 Holly Swasko, Writer
Known for her love of rose gold and cardigans, Holly Swasko, senior, will rarely be seen without at least one of them. When she isn't posing for an "OOTD"...