Unicorns aren't real, but luckily unicorn frappuccinos are
When rumors of a possible Unicorn Frappuccino spread all over my Facebook timeline last week, I had to admit I was excited. Being a sucker for any rainbow food or drink, I knew I would have to stray away from my daily iced soy latte and try something a little bit more majestic.
On April 19, Starbucks unveiled the Unicorn Frappuccino, a flavor and color changing sweet, fruity beverage that transforms to sour with whipped cream and "fairy powders" to top it off. A bright sign announcing this limited edition Frappuccino welcomed me upon entering and the baristas were as eager to make it as I was to try it.
After taking enough Instagram worthy pictures of my drink, I braced myself for the first sip of this sugary, colorful contraption. My first reaction was disappointment, it tasted like a Vanilla Bean Frappuccino and I was confused as to what gave a usually white drink that bright blue and pink color. I went in for a second sip and was surprised to taste the tart, blue syrup which was the mango flavoring. I mixed the Frappuccino, and as promised, the blue and pink mixed into a bright purple color. The mango syrup was overpowering when not mixed together with your milk of choice.
Honestly, my favorite part was the whipped cream topping with the colorful powder on top. I wouldn't be upset if Starbucks made that permanent. A Starbucks news release described the blended beverage as one "made with a sweet dusting of pink powder blended into a crème Frappuccino with mango syrup, and layered with a pleasantly sour blue powder topping," but really, it just tasted like blended up Sour Patch Kids.
Would I order this drink again? Probably not, unless I wanted it as a cute accessory in an Instagram picture during the summery months. Regardless, I appreciate Starbucks' effort to hop on the rainbow, hipster food trend that won't seem to go away.
Unicorn Frappuccinos are available at all participating Starbucks until April 23.
Leave a Comment
About the Contributor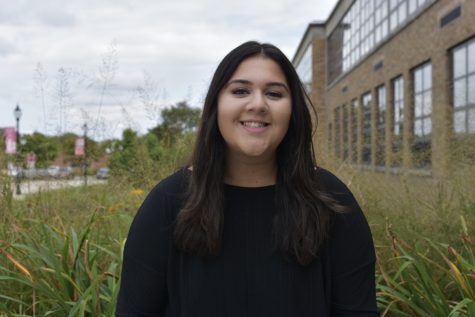 Sanya Sawlani, Editor-in-Chief
Sanya Sawlani, senior, is a pro procrastinator and avid daydreamer. She can usually be found listening to the 1975 and eating peanut butter chocolate ice...