YiaYia's offers breakfast of champions
After opening about three years ago, YiaYia's Pancake House and Restaurant has made its way into the list of favorite restaurants in downtown Hinsdale for both students and families.
On a Saturday afternoon, around 2:00 p.m, I visited YiaYia's for lunch. It was very quiet at that time, and only two other tables were occupied. Considering that it closes at 3:00 p.m., the quiet atmosphere was expected. The staff greeted me with big smiles as I walked in.
With a variety of options on the menu, I ordered the "Nutella Crepes," which were filled with strawberries, bananas, and hazelnut spread. They were delicious and served warm. The hazelnut spread melted right into my mouth, and the portion was generous.
My friend ordered the "Mediterranean Salad," which included charbroiled chicken breast or gyros, tomatoes, cucumbers, red onions, pepperoncinis, kalamata olives, and crumbled feta cheese, served over romaine lettuce with their signature dressing. She said it was flavorful, and she would definitely get it again.
"The food is so delicious, and I love everything here," said Kaylee Haff, junior.
With YiaYia's being a local breakfast spot, many students visit it for its incredible service and food.
"YiaYia's has some of the best chocolate chip pancakes in this area. They put the chocolate chips on top of the pancakes, so they get warm and melt onto the fluffy cakes. They're also really big in portion, so they're great to split with a friend," said Olivia O'Bryon, junior.
Besides students and families, YiaYia's mouthwatering dishes are even loved by the staff.
"I like 'Maria's Combo.' It comes with two scrambled eggs, two chicken sausage links, and California french toast. Of course, I have many other favorite dishes, but this was the first that came to mind," said Petya Karadzhova, crew member.
Food and flavors are both important when deciding in where to eat, but also atmosphere and friendliness play a role. The employees at YiaYia's are kind-hearted and enjoy talking to their customers.
"Working here is pleasure. Every day is a different challenge, but once you get the work done, you feel grateful," Karadzhova said.
Considering my great experience, I would definitely recommend YiaYia's Pancake House and Restaurant for any place to hang out or catch some breakfast with a date. The price is affordable and the staff is welcoming.
YiaYia's Pancake House and Restaurant is located at 13 Grant Square, Hinsdale, Ill. 60521.
Leave a Comment
About the Contributor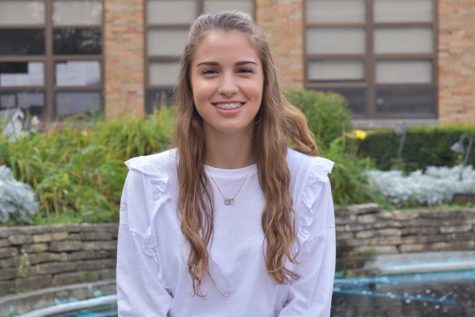 Samia Douedari, Section Editor
Samia Douedari is a senior who enjoys to write whether it's for a class or for fun. Along with being a part of the cross country and track team at Hinsdale...