Munchies and mariachi
With the cold weather coming, it's hard to find an exotic, beach vibe unless you fly to a warmer area. However, you can get the same feel by visiting Las Islas Marias Restaurant in Villa Park.
Las Islas Marias has a different theme than most restaurants, since it has summer and beach decorations with vibrant colors painted all around. Also, it has a sunny section to the restaurant where the walls and ceiling are windows, allowing as much sunshine in as possible.
I visited Las Islas Marias around 5 p.m. on a Friday, and although it was crowded, we were still able to be seated right away.
The menu consisted of a variety of seafood, but I ordered chicken enchiladas with red sauce. The portion was very generous, and they were amazing and flavorful. The enchiladas were soft and smothered with cheese. The side salad was refreshing and simple. I would definitely recommend this dish.
My friend ordered quesadillas, and she said they were some of the best she's ever had. She said they were oozing with cheese and were hot and soft. She would also recommend them.
Las Islas Marias is one of the liveliest restaurants I've ever been to, for they have two mariachi bands that walk around the restaurant that offer to play for any table. Individuals from the mariachi band offered to play for us on the harp, violin, and accordion. We also experienced the full band performing for random tables, which was entertaining to watch and listen to while enjoying our food.
"Everyone here is really nice, and I've been working here for three years. Everyone is always in a good mood, and I love listening to my native music as I work," said Lucia Huerda, crew member.
If you're interested in the beach and tropical theme of this restaurant, then check out my review on Paradise Cafe. Both of these restaurants are great getaways for the approaching fall and winter months.
Las Islas Marias is located at 31 W. North Ave., Villa Park, Ill. 60181.
Leave a Comment
About the Contributor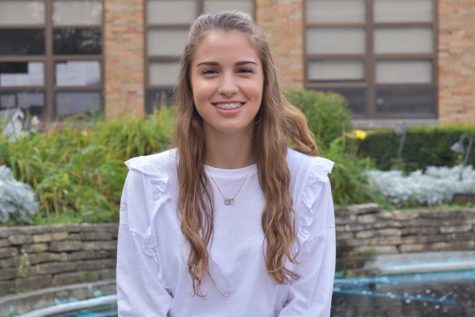 Samia Douedari, Section Editor
Samia Douedari is a senior who enjoys to write whether it's for a class or for fun. Along with being a part of the cross country and track team at Hinsdale...